CT Varsity organises International e-Conclave in association with Tradeprenur
This conclave was an out of the box approach for the students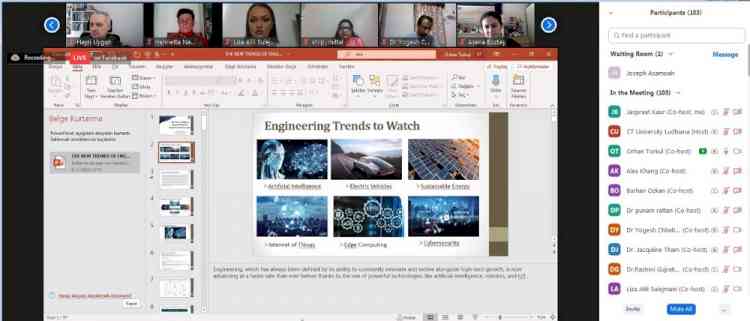 A screenshot of an international e-Conclave.
Ludhiana: CT University in association with Tradeprenur Global Academic Platform, Southampton, United Kingdom, organised an International e-Conclave 'Out of Box Approaches in Engineering and Management Post Covid Analysis'.
Tradepreneur, is an international platform for the exchange and presentation of expert opinions, novel ideals, and ground breaking research findings in the field of theoretical and practical experiences in the academia and industry. 
Core speakers for the conference and their topics for discussion were Prof Dr. Orhan Torkul from Turkey, former Vice Rector Yalova University and at present working with Sakarya University in Industrial Engineering Department highlighted 'New Trends of Engineering and studies of smart Cities' and said, "Today's smart city is an enabling platform that delivers advanced services for businesses and residents, helping to bridge the digital divide and provide a better quality of life for all. Network infrastructure is critical to realizing this potential. Defined by its high-speed, low-latency data transmission, and ubiquitous connectivity, a well-planned infrastructure transforms cities into vibrant socio-economic communities."
Also, Dr. Habil Nagy Hernrietta from Budapest Hungry, Vice Rector at Toamri Pal College, Hungary spoke at length on The New challenges of rural economics in EU due to COVID19'; Dr. Burhan Ozken from Turkey discussed 'Impacts of Covid19 on agricultural production'; Dr. Yellina ProkhoRova from Ukraine discussed 'The issue of Entrepreneurship in Ukraine'.
Dr Yogesh Chhabra, Head of School, School of Engineering CTU, said, "This conclave was an out of the box approach for the students. Coming times is of online education. Budding engineers and entrepreneurs need to have timely exposure with such across the globe experts and their vision mission."
Dr. Harsh Sadawarti, Vice Chancellor, CTU appreciated and thanked the speakers and guests for sharing insights on to the topic and congratulated the campus team for organising this wonderful e-Conclave.