CT Varsity honours 10 medical practitioners
They were honoured by Chancellor and VC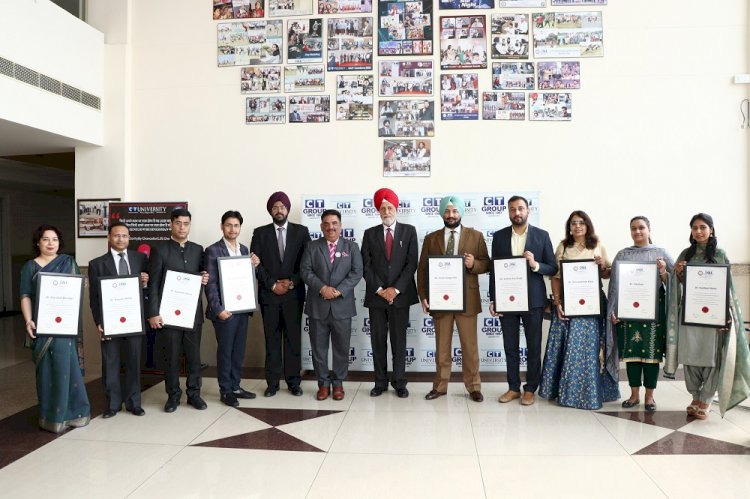 CT University Chancellor Charanjit S Channi, Vice Chancellor Dr Harsh Sadawarti while honoring 10 medical practitioners.
Ludhiana: CT University, Ludhiana, conferred 10 Medical practitioners with Post Graduate Certificate in Healthcare Management (PGCHM) during a 'Felicitation Ceremony' held at the campus. The certificate is modelled to impart the medical fraternity with skills based in Healthcare Management and overcome managerial challenges. They were honoured by Chancellor Charanjit Singh Channi and Vice Chancellor Dr Harsh Sadawarti.
While receiving the PGCHM, Vivan Singh Gill, Vice President, Max Hospital, Chandigarh, thanked CTU and said, "This flagship programme with CTU will benefit in providing exposure based knowledge that is practical and theoretical as well. It carries entire healthcare scenario. This programme is also beneficial for budding doctors and interested people for a great career."
While honouring the Medical practitioners, Dr Harsh Sadawarti, said, "I congratulate the Healthcare Fraternity who chose this unique programme and successfully completed it. This signature programme provides a path to career advancement in the diverse field of healthcare, offering opportunities to move between different environments and face new challenges. Moreover, this course familiarizes the participants with innovation and entrepreneurship in Indian healthcare sector. The conferred will result to be alumni of CTU and provide future endeavours for budding medical professionals."