CT Varsity holds e-Induction session on volunteer program on social engagement
The purpose of the e-induction session was to acquaint the faculty and students with the community activities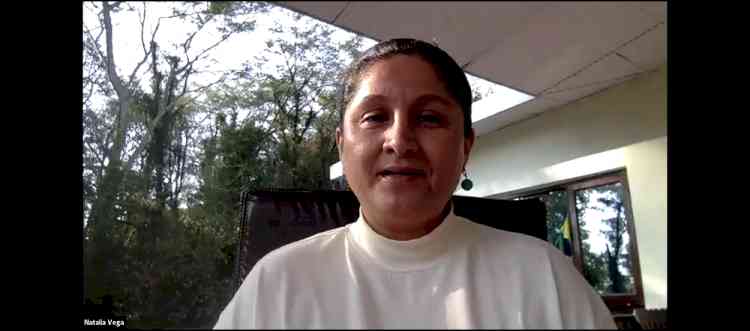 Natalia Vega, Lead, LearnLabs RoundGlass Foundation.


Ludhiana: An e-induction session for Volunteer Program on Social Engagement and Community Work was organized by the Community cell of CT University in collaboration with RoundGlass Foundation. The purpose of the e-induction session was to acquaint the faculty and students with the community activities to be organized under the MOU between CT University and RoundGlass to work in collaboration for contributing to the community.
Dr. Mandeep Bhullar apprised the audience of the Collaboration and activities undertaken by CTU and RoundGlass Foundation for community development and introduced the resource persons for the session. Dr. Harsh Sadawarti , Vice Chancellor welcomed the Resource persons and attendees and underlined the utmost need for community work.
Ranjan Singh, Associate, Fundraising, RoundGlass Foundation said that the idea of better education for the underprivileged people in Punjab led to the foundation of RoundGlass in 2018 and that more than 200 workshops have been organised on Women's health and hygiene. He explained the initiatives taken for the clean environment, segregation of waste, etc. The representatives discussed the importance of social responsibility and one's contribution to society. Natalia Vega, Lead, LearnLabs RoundGlass Foundation encouraged the volunteers to participate to educate needy children via online sessions. She explained that poor reading skills hinder penurious children in education.
Dr. Harsh Sadawarti , Vice Chancellor, CTU said ,"The participants after undergoing a training session for teaching would work on their reading skills. Moreover, participation by volunteers will not only benefit the society but will be academically prized with certification."