CT Group Maqsudan Campus develops Disinfection Oven "CoronaWave"
Oven can be used to sanitize currency notes, Wallet, Mobile Phones, Fruits, Vegetables etc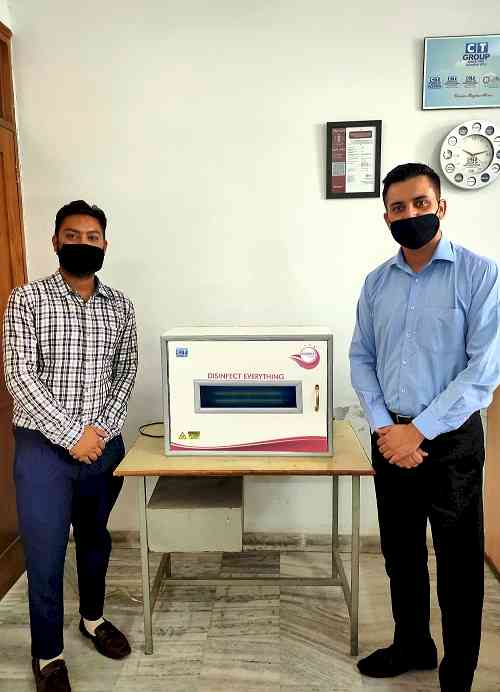 Dr. Anurag from CT Group Maqsudan while showing Disinfection Oven "CoronaWave".


Jalandhar: The research team of CT Group of Institutions, North Campus (Maqsudan) has developed a UVC based Disinfection Oven called CoronaWave. This invention is based on Ultra Violet-C light that deactivates DNA bacteria, virus and other pathogens and thus destroys the ability to multiply and cause disease.
This development is made under the guidance of Dr. Anurag Sharma, Professor (ECE) & Principal, CT Institute of Technology and Research along with Anshu Sharma, HoD (CSE) and Navdeep Singh, Assistant Professor (ECE), CTITR. Telling further about the invention, Dr. Anurag said, "This oven can be used to sanitize Wallet, Mobile Phones, Fruits, Vegetables, Kitchen Utensils, Slippers, clothes and other daily used items. It kills 99.9  bacteria by exposing UVC light for 10 minutes. It is a low-cost product and is easily available for common man."
Dr. Jasdeep Kaur Dhami, Director CT Group of Institutions, North Campus (Maqsudan) appreciated the efforts of team members and encouraged them to perform more research-based activities in future also.
Manbir Singh, Managing Director CT Group applauded the efforts made by the team for developing this oven that can be used by people to reduce the risk of this virus.