CSR should start with social perspective following equality and justice: Medha Patkar during CSR Conference 2021 held at Amity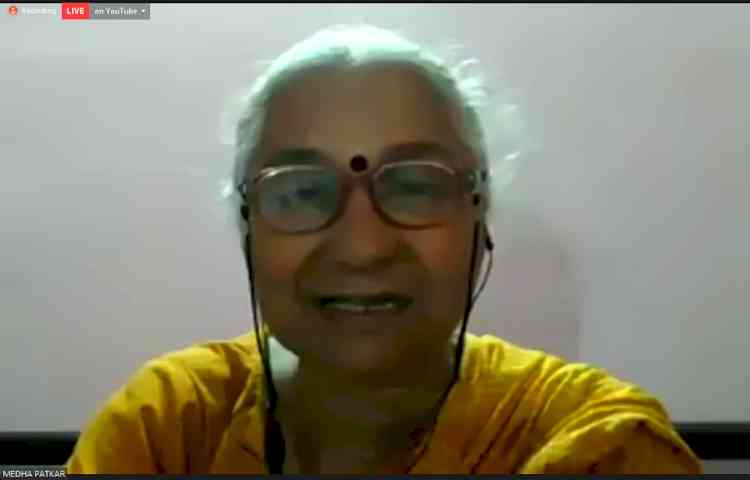 Medha Patkar.


Amity University Uttar Pradesh organized a two Day International Conference on the theme "Corporate Social Responsibility (CSR) during Pandemic and Beyond: Organization Responses, Business Model Innovations and Responsible Business Practices" wherein hundreds of Academicians, Corporates, NGO's and students will deliberate on 33 themes in several areas of tourism & hospitality sector, education sector, defense manufacturing sector, consumer durable sector, food & agriculture sector, healthcare & medical devices sector etc. The  objectives of this Conferences are to explore and draw learnings from both National and International experiences of the Organizations in promoting CSR with integration to Business Strategies and gaining sustainable Competitive Advantage, to bring about  captivating deliberations and gain intellectual perspectives on building CSR Frameworks that are scalable and sustainable in creating a larger social impact, to introspect and seek  newer CSR opportunities, take a stock of existing CSR policy and implementation and devise correct roadmap for  way forward and to gain perspectives on how CSR-Innovation in companies are driven through the focus of competitiveness and societal developmental frameworks. 
Inaugurating the conference, Key note speaker Ms. Medha Patkar, Distinguished Social Worker stated that a Nation's social responsibility does not belong only to institutions but it is the duty of every individual to bear the responsibility which includes economic, environmental, political and social responsibility specially in difficult times like only during pandemic, natural calamity, man-made disaster and also deal with the challenges of injustice and inequality. Corporate social responsibility is not just a concept of management, it is also a social commitment. Citing the example of the migrant laborers, who traveled thousands of kilometers during the pandemic, she said, even though the government provided them the  means of transport, but the main challenge was to understand the reasons for the migration which included unemployment, non-payment of allowances, termination, lack of health services and poverty. She suggested that employment has to be linked with industries, agriculture, people's forests and land, and the government should emphasize on right to life and livelihood. Corporates should adopt human values and imbibe human rights based approach by also looking at global policies and thus work towards corporate social impact. There is need to look at governance and follow the fundamental rights so that basic need of every citizen is fulfilled. She raised concerns towards the unorganized workforce and called upon students, corporates and the government to research and understand how resources can be utilized to protect this sector and their sources of livelihood. Corporates, builders, entrepreneurs should all take their responsibility by becoming sensitive towards environment, pollution and ensure that our forests, agricultural land and rivers are preserved. Ms. Patkar called upon students to work at the ground level and work with slum dwellers to understand their problem and only then solutions can be found. Academic institutions should have curriculum including values of democracy, chapters on freedom movement so that they understand the struggles, the system and accordingly act. Disparities must end, be it in education, employment and the new approach should be de centralization of resources, averred Ms. Patkar.
Mrs. Pooja Chauhan, Chairperson Amity Humanity Foundation said the theme of the conference is important especially after pandemic. The corporate social responsibility is to resolve the major issues and challenges, and provide opportunities and new direction to  businesses. Covid 19 has changed everyone's perspective and way of working therefore we require active participation and support from society, only then we can create a strong nation. Humanity and Philanthropy is the core and nucleus to development. During these tough times, Amity has always stood to rectify the damaged caused. It is important to deliberate, understand the challenges faced by society and create synergy between Industry and Academia to find solutions to tackle new problems. Calling the address of Ms. Patkar as enlightening and enriching, she assured that students will work at grass root level to understand the challenges post pandemic and will create a different generations of citizens in this new normal.  
 Welcoming the gathering, Prof. (Dr.) Balvinder Shukla, Vice Chancellor, Amity University Uttar Pradesh said, 'in India Corporate Social Responsibility has become an important part of businesses where every business has its own pattern of CSR to follow which not only improves overall quality of work but also brings transparency. Amity University has always believed in the concept of Sanskars and Human Values and organizes programs every year by way of activities involving societal issues with participations of students to create awareness among students, which helps them to understand the societal problems better.
Prof. (Dr.) D K Bandyopadhyay, Conference Co-Chair and Chairman ALS and Prof. (Dr.) Nirupama Prakash, Conference Organizing Secretary, and Director, Amity Institute of Social Sciences (AISS) shared their views on Corporate Social Responsibility (CSR), which has been redefined in its facets from corporate philanthropy to the newer business element of 'Triple bottom-line' i.e. Economic, Social and Environmental Sustainability. This includes assisting small businesses via invoice Financing, providing local community Labour Skill Development & Employment, Secured Labour Migration Policies, Supplier Diversity Programmes, Customer Caring, Donations for Medicines, Supporting Hunger Crisis, Assisting Students for remote learning, Internships and Collaborative Research with Higher Education Institutions, said the experts.
The two day conference will deliberate upon several topical issues including: Transitions for sustainable future aligning to SDG's: Discovering opportunities for investment, Innovations and collaborations through CSR; Strategies to build impactful partnership of corporates and NGOs through CSR initiatives; Skill development for youth for industry 4.0 and beyond:, Role of CSR initiatives in leveraging local resources and capabilities, How to shift business focus for rural development through CSR initiatives; Integrating CSR into teaching- learning and research to develop responsible citizen gain social impact for growth; Promoting social responsibility amongst youth through community engagement and industry and academia partnership; Effective CSR governance and ethics in business, by eminent corporates such as Mr. Raju Sharma, Director CSR, Indigo Aviation; Mr Chetan Kapoor, COO, Tech Mahindra;  Ms. Monika Walia, Head CSR, Global Logic- Hitachi Group; Mr. Saharsh Simon David Head- S&CR- South East Asia Oceania and India, Ericsson India including many others.