COWE aims to turn 150 rural women into food entrepreneurs
Cookery Contest held in Karimnagar with unique purpose to tap talented rural women with entrepreneurial aspirations and nurture them to be entrepreneurs in future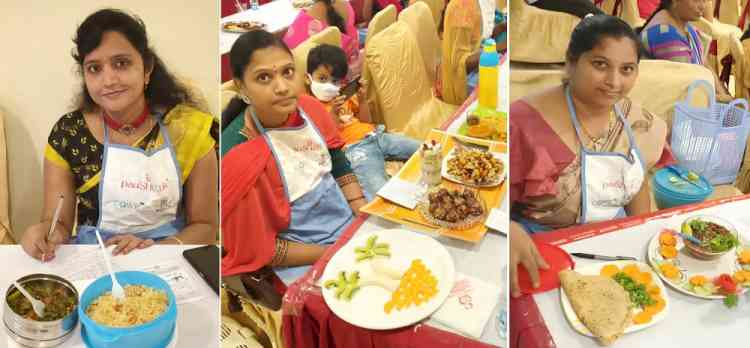 Seen are participants in a Cooking Contest organsied by COWE and HIHCA in Karimnagar.
Karimnagar, August 17, 2022: Confederation of Women Entrepreneurs of India (COWE), the home grown national body of women entrepreneurs is embarked on a unique initiative to reach out and spot talented rural women with entrepreneurial aspirations through a purpose driven Contest "PAU"SHE"TIK Cooking competition", "Mera Swad Mera Swaasth"
 
The purpose driven Cooking Contest titled "PAU"SHE"TIK was organized by COWE, in association with Hands in Hospitality Chef's Association on Wednesday in Hotel Shweta in Karimnagar
 
Karimnagar District Collector R.V.Karnan graced the occasion. Speaking on the occasion he lauded the efforts of COWE and Hands in Hospitality Chef's Association for organizing such a purpose driven contest.  Women in rural India have tremendous talent. If given opportunities, they too can excel very well. They are equally enterprising like any other women of bigger town.   I am given to understand that this is not merely a contest to test culinary skills, but also to spot enterprising talent in the rural women who will be subsequently on their interest will be nurtured to become entrepreneurs.
 
About 50 women took part in the contest.  It was organized as part of the four city contest in the Telangana, It kickstarted with Karimnagar.  50 women took part in the contest.
 
T. Sridevi for her Monagaku Oats Garelu emerged as the winner.  G. Shailaja for her Navratan Laddu stood second, B. Swapna for Saddi Annam stood in third position.  The five consolation prize winners are T. Narmada for Millet Umpa; J. Umarani for sprouts curry; G. Pooja for Bajra Roti; Mirza for coconut dry fruit laddu; Lavanya for Sorakaya Sarvapindi; Premjit Kaur for Punjabi Kadi
 
All the eight selected from this city will participate in a final comepetition to be held on October 16 in Hyderabad. It will be a live cooking competition. This city winners will compete with winners of other cities. 
 
The contest will be held in Warangal on 29th August, Nizamabad on 8th September and Mahabubnagar on 22nd September. The finals will be held on 16th October in Hyderabad. Anyone can participate. There is a nominal registration fee of Rs 200/-. All the participants will be given Prizes, Aprons and Certificates
 
 Ms. Sandhya Reddy of COWE in a press note issued in Karimnagar today said that the theme of the contest was Paushetik Vegetarian. All the participants had to bring vegetarian based cooked items cooked at home and displayed at the contest arena for the judges to judge 
 
It is aimed not just to test culinary skills, but to spot entrepreneurial talent among rural women and nurture their future entrepreneurial aspirations. It is a contest with a unique purpose. COWE aims to turn 150 rural women into food entrepreneurs
  
100 to 150 women are expected to participate in each center. About 500 women are expected to participate in the contest. 35% of these women will be converted into women entrepreneurs.
 
COWE and HIHCA will train and hand hold the selected candidates in becoming entrepreneurs.
 
COWE is a body of women entrepreneurs with a pledge to support and empower women to become entrepreneurs in a democratic organization of women, by women and for women. It was established in the year 2004 and spread across India. It is a name to reckon with in the space.
 
COWE has grown by leaps and bounds imprinting its presence in 11 states of India.