Covid Vaccination Camp held at Amity University Haryana
Amity University Haryana has kept its campus fully safe and secured by strict implementation of covid-19 protocol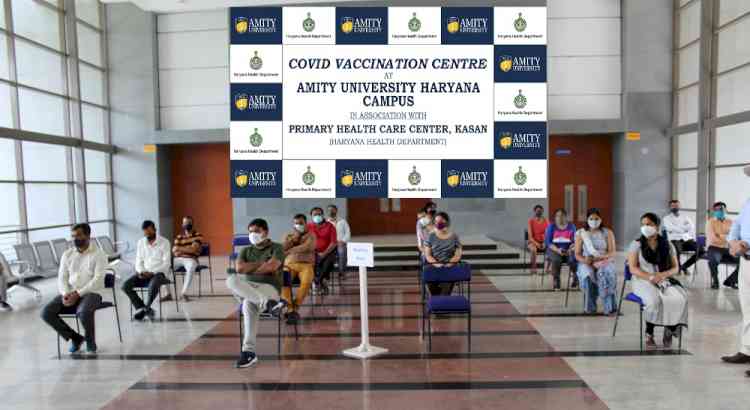 Gurugram: The Health Department of Government of Haryana, Gurugram district organised today the vaccination drive for faculty and staff of Amity University Haryana. The Vaccination camp was inaugurated by Prof PB Sharma, Vice Chancellor AUH in inspiring presence of Dr Sandeep Gupta, Medical Officer, In-charge of Manesar Region and the team comprising of Healthcare Staff Mr Raj Kumar. Dr Parsanna Raj, Advisor Amity Medical School along with the resident doctor of AUH Dr SK Ghosh and team were present to support the vaccination drive. 
Inaugurating the Vaccination drive Vice Chancellor Prof Sharma said that "Everyone eligible for vaccination should take advantage of the vaccination drive being conducted by Health Department of Government of Haryana. It must be clearly understood that we shall be protected fully only when a great majority of people are vaccinated". Prof Sharma expressed his gratitude to the District Health Department of Manesar Region for conducting the vaccination drive at the University and for the excellent support provided by Dr Sandeep Gupta and his team.
The Vaccination drive was conducted with full proof security and sanitation arrangements and with stringent compliance of the requisite protocols of Covid-19. 100 employees of AUH of age group 18 to 44 years were vaccinated today that included members of faculty and staff residing in the AUH campus and in the neighboring villages. There was demand for another 100 doses of vaccine for AUH employees for which the District Health Department has kindly agreed to conduct a special vaccination session on Monday 21st June 2021 at the university. The facility for Rapid Antigen and RT-PCR test was also made available at the camp.
Prof Sharma also informed that under the visionary and caring patronage of the Founder President of Amity Education Group Dr Ashok K Chauhan and the inspiring Leadership of Hon'ble Chancellor Dr Aseem Chauhan, Amity University has rolled out a number of compassionate initiatives to support the university community during the Covid-19 pandemic. These include 24x7 Covid helpline, Oxygen Concentrators for Amity community on need basis, 24x7 healthcare support for those residing in the campus and full freeship to the students of Amity who had lost their earning parent due to Covid-19. 
Amity University Haryana has kept its campus fully safe and secured by strict implementation of covid-19 protocol under the expert guidance of Dr Ajit K Nagpal, Chairman of Amity Medical Foundation and Maj Gen GS Bal, DSW and Director Security. 
Several senior officials who were present during the vaccination drive today included Dr Rajendra Prasad, Director AIB, Dr Sanjay Jha, Director ASLA, Mr AK Mittra, Dy Director Maintenance, Col Vijai Yadav, Dy Director Hostels, Assistant Director HR Dr Viveak Ballyan, Prof Pranshul Pathak from ALS, Cdr NK Dahiya Dy Director Security and Nursing Assistants Mr Krishan Kumar, Mr Sunil Dutt, Ms Veena Ghosh.