Covid 19: Khanna police carrying door-to-door supply of essential commodities and medicines to residents 
Flag march organised to ensure everyone follows guidelines regarding safeguarding against covid 19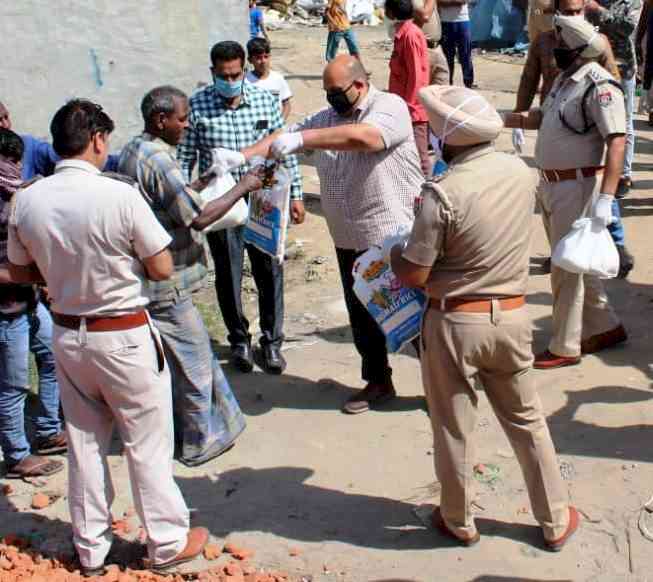 Four FIRs registered against people violating curfew/lockdown
Khanna (Ludhiana): Mr Harpreet Singh, Senior Superintendent of Police Khanna informed that in view of Novel Coronavirus (COVID 19) pandemic, the Khanna police has already made all security arrangements to check the spread of this disease. He said that all residents have been urged to stay indoors if they want to keep themselves both safe and healthy. He said that to ensure that people get all essential commodities and medicines, the Khanna police have formed different teams in this regard.
He said that the teams carrying these essential commodities were flagged off from the office of SSP Khanna today. Besides, if any person provides any information regarding any problem at the Police Control Room, the Khanna police provides all kind of help to that particular person so that people stay indoors.
Today, team led by SP (I) Khanna Mr Jagwinder Singh Cheema today provided essential commodities and medicines to residents in Kartar Nagar, Samadhi Road, Lalheri Road, Krishna Nagar, near Police Station City-2 etc.
To check the spread of COVID 19 in Khanna, a flag march was also carried out under the supervision of Mr Tajinder Singh, SP (H) Khanna and Mr Jagwinder Singh Cheema. This flag march was carried out to ensure that the law and order situation is maintained and people are made award about COVID 19 in Khanna town. With the help of public address system, people were also appealed to stay indoors during the flag march.
The SSP informed that despite making people aware regarding staying indoors, 4 FIRs have been registered against the violators of curfew/lockdown.