Covid 19: Donating through district red cross society becomes much easier now
Online "link" to make payment through mobile phone issued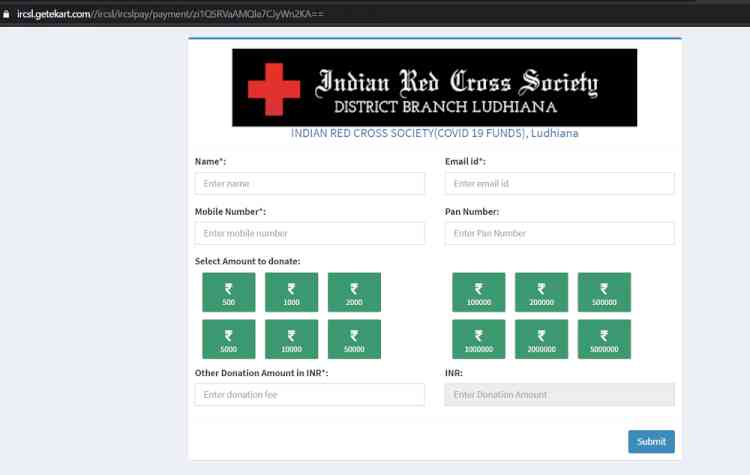 Ludhiana: Deputy Commissioner Mr Pradeep Kumar Agrawal has informed that in view of Novel Coronavirus (COVID 19), if any person wants to donate to support the relief measures being undertaken by the District Administration, they should contact Secretary of District Red Cross Society, Ludhiana at his phone number 9417376655 or email [email protected]
    To make the entire process much easier, the District Administration has also issued the web link, ircsl.getekart.com/ircsl/ircslpay/payment/zi1QSRVaAMQla7CJyWn2KA==  to make the donation with a single click. Mr Agrawal informed that when someone clicks on the link, he/she can make the donation in a much easier way. He informed that the donors would just have to fill in their name, email ID, mobile number and PAN number and the donation from Rs 500 to Rs 50 lakh can be made easily by clicking this link.
    He informed that the bank account of District Red Cross Society is in HDFC Bank (account number 50100330412872), IFSC Code is "HDFC0001320", where the residents can contribute wholeheartedly.
    Mr Agrawal said that in this hour of need, supply of cooked food and dry ration is being supplied to people who are basically daily wage labourers. He said that till now, this work is being carried out with the support of several NGOs and organisations. He informed that through the District Red Cross Society, relief is being provided to the needy and urged the residents to donate wholeheartedly so that maximum number of people could be benefitted.