COVID 19: DC Ludhiana thanks residents for supporting district administration by staying indoors during lockdown
New system developed for distribution of fruits and vegetables in city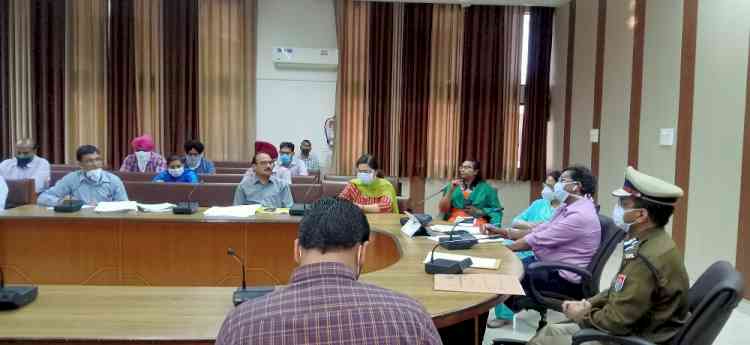 Deputy Commissioner Pradeep Kumar Agrawal holding review meeting regarding COVID 19 at Bachat Bhawan in Ludhiana today.
•    COOKED FOOD BEING DISTRIBUTED AMONGST AROUND 1.5 LAKH PEOPLE DAILY
•    FOUR VENTILATORS FROM CIVIL HOSPITAL SHIFTED TO CMCH
•    ONE MORE PATIENT TESTS POSITIVE TODAY
•    SAMPLES OF NEAREST FAMILY MEMBERS OF DECEASED WOMAN COME OUT NEGATIVE
•    RESIDENTS SHOULD APPLY FOR E-PASS IF THEY WANT TO COMMUTE FOR SOME WORK
•    ALL SHOPS SELLING ESSENTIAL ITEMS TO REMAIN OPEN
Ludhiana: Deputy Commissioner Mr Pradeep Kumar Agrawal today thanked the residents for supporting the District Administration by staying indoors during the ongoing lockdown. He said that the entire District Administration is working 24X7 for ensuring the safety of Ludhiana residents.
While chairing a review meeting regarding Novel Coronavirus at Bachat Bhawan, here today, the Deputy Commissioner informed that to ensure regular supply of fruits and vegetables in the city, a new system is being developed. He said that one commission agent (arhtiya) would be allotted to each of the 95 wards of the city, he would bring fruits/vegetables to an earmarked place in that particular ward in their vehicles, where the street venders would come and collect the produce. These street venders would then sell fruits/vegetables in the ward allocated to them. He informed that 20-25 street venders would be allocated to each ward. The commission agents would be identified by the District Mandi Officer, while the sites and street venders by Municipal Corporation, Ludhiana.
He informed that cooked food is being distributed amongst more than 1.5 lakh people in the city daily and several NGOs, social/religious/industrial organisations are supporting the District Administration in this regard. He said that to ensure that food reaches each and every needy person, the District Administration is distributing food themselves. He informed that clusters of such organisations that cook food for lesser number of people would be formed, from where the MC vehicles would collect the food and later distribute it. He urged the residents to take proper permission before distributing any food/langar in the district.
He assured that the supply of food packets being sent by the state government would also start in the district shortly. He said that the food packets have arrived and the distribution would start shortly. He said that the state government has allocated separate 1 lakh packets for distribution amongst the migrant workers of Ludhiana alone.
He informed that four ventilators from Civil Hospital Ludhiana have now been shifted to Christian Medical College & Hospital, where a separate ward has been set up for this regard. He clarified that all shops selling essential commodities/items can operate for home delivery, and even the vehicles carrying essential commodities/items such as milk etc can also operate. He urged the residents to apply for e-pass and assured that if their reason is valid, they would get permission within 2 hours. He also said that employees of all government departments do not need any separate curfew pass and they just need to carry their official ID card, that has to be presented whenever asked for.
72 YEAR OLD LADY FROM AMARPURA TESTS POSITIVE:
The Deputy Commissioner informed that a 72 year old lady, who used to reside near the house of the deceased woman in Amarpura area of the city, have also tested positive for Novel Coronavirus. He said that however the samples of the deceased woman's immediate family members have come out to be negative. He informed that till date, 148 samples were sent for testing, out of which 134 were negative, four positive (one from Jalandhar), while the report of 10 is pending. He said that out of 43 samples sent for testing yesterday, 42 have come out to be negative. He said that the Amarpura area is being sanitised and would remain sealed.
AMARPURA RESIDENTS APPLAUD HEALTH DEPARTMENT OFFICIALS:
The residents of Amarpura area of Ludhiana applauded the health department officials, who have been working hard ever since a lady from the area passed away on March 30, 2020. The residents clapped and cheered for the health staff that have been working hard 24X7 for the safety of city residents.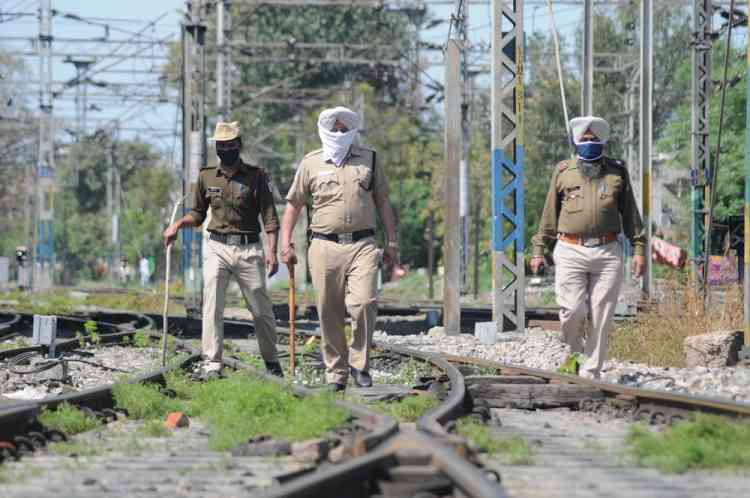 The police personnel taking a round on the railway tracks in Ludhiana on Wednesday, to ensure strict imposition of curfew imposed in view of the situation arisen due to covid-19. Photo:AJAY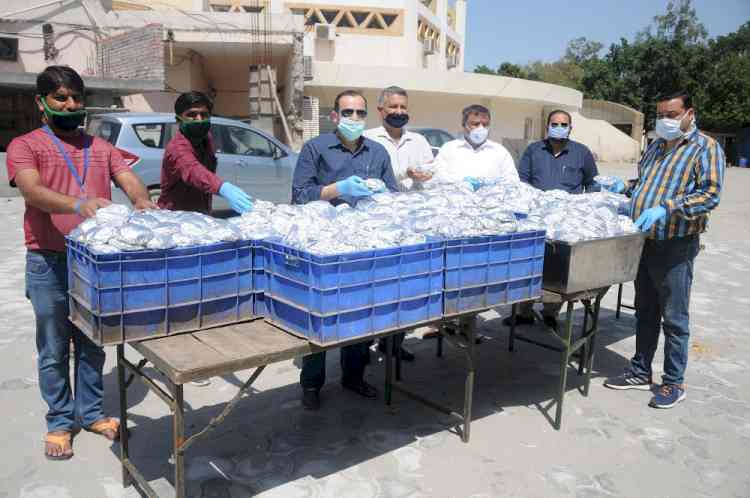 Members of Vidya Society handing over the meals for 1000 needy prople at Ludhiana on Wednesday. Photo: AJAY