Conducting of covid awareness drive on Day 2
Shopkeepers of area were given awareness pamphlets and masks were also distributed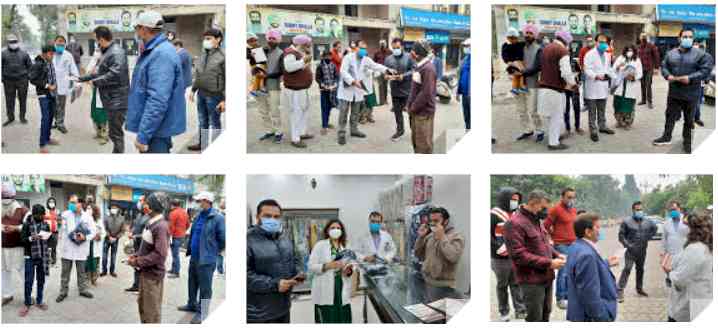 Ludhiana: DMCH undertaking strong measures in making people aware about further spread of COVID 19 pandemic
DMCH today volunteered to generate awareness among public to use masks and wear them properly. The drive was conducted today in Udham Singh Market. Shopkeepers of area were given awareness pamphlets and masks were also distributed. Area Councillor Sunny Bhalla was also present on the occasion along with other senior residents of the area. Dr Sarit Sharma and Dr Hitant Vohra from DMCH conducted the awareness proceedings and got exemplary support from the people.
In the evening, Awareness Drive was also conducted in the premises of Baba Sunet Shaha Wali Dargah in are adjacent to PAU campus. On 'Thursday' large number of devotees throng Dargah and DMCH thought it opportune time to make aware about keeping themselves safe and healthy from probable attack of second wave of COVID.
In his message, Deputy Commissioner of city Virender Aggarwal lauded the efforts of DMCH under the guidance of Secretary Prem Kumar Gupta in conducting such awareness drive for the welfare of residents of the city.