Community awareness regarding upcoming Covid-19 second wave
An audio clip was also prepared by Department of Community Medicine, CMC Ludhiana in Punjabi language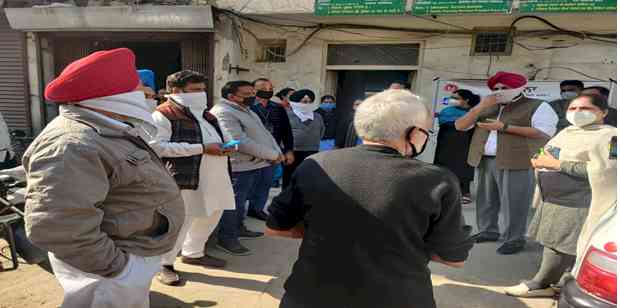 Ludhiana: Having shown a decline in daily covid cases after a peak in September, India has reversed the trend over the past few weeks. At least 36604 fresh cases were reported across the country over the past 24 hours, taking its overall tally to 95 lakhs with Delhi seeing its highest tally so far at 8,593. Public health experts have said the pandemic may evolve given the approaching winter and a slew of festivals, low testing and learn-to-live-with-the-virus attitude. Keeping in mind the above scenario a community awareness program regarding second wave of COVID-19 was held at fieldganj centre of Department of Community Medicine CMC Ludhiana. 
The program was flagged off by Dr. Balwinder Singh Dhillon SDM Ludhiana East in the presence of Dr. Hitendra Kaur,  SMO and  Nodal Officer for COVID-19 and Dr. Gurshan Singh Gill, Assistant Professor Department of Community Medicine CMC Ludhiana. The key messages given in this program to the local shopkeepers and community were that until vaccine is available certain preventive measures such as wearing mask, social distancing and frequent hand washing were effective tools to counter and prevent this COVID-19 infection.
An audio clip was also prepared by Department of Community Medicine, CMC Ludhiana in Punjabi language which enumerated essential protocols and effective ways to prevent COVID-19 infection, Such as wearing of masks, social distancing, frequent hand washing and to contact nearest health facility if a person had fever or breathlessness. People and health workers were also motivated to get tested keeping in mind the rising numbers of cases of COVID-19.