Commissioner of Police honors Covid Warriors at Aykai Hospital
Also inaugurates World Kidney Day and vaccination for kidney patients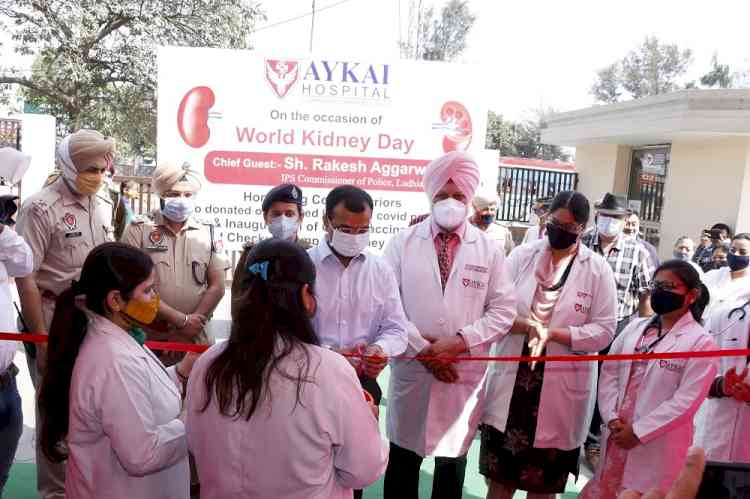 Ludhiana: World Kidney day was celebrated at Aykai Hospital with an aim of creating more awareness about kidney disease and how we can help such patients to live a better quality of life. Focus was on the theme "Living well with kidney disease".  Informed Chief urologist and Transplant Surgeon Dr Baldev S Aulakh who educated the public to take 8 precautions for kidney health.
On the occasion, Chief guest Rakesh Aggarwal, Commissioner of Police Ludhiana inaugurated covid vaccination and check-up camp for kidney patients aiming to vaccinate dialysis and kidney transplant patients. He appreciated the efforts and accomplishments of the Aykai team who not only conducted transplants in covid pandemic but also did ABO incompatible and swap paired transplants. He enfused positivity and courage among the patients to live well despite the kidney disease. 
He honoured covid warriors who donated or received kidney at Aykai hospital in covid pandemic.

In recent times, with the world being embroiled in the chaos of covid-19 pandemic, the very much prevalent and widespread health problem of kidney disease has taken a back seat in our minds. However, the Aykai Hospital family has been like an army of Covid Warriors fighting kidney diseases as well, for even the kidney transplants were fiercely performed during this worldwide pandemic, with utmost precautions, and no compromise in patient care.

The chief nephrologists of Aykai Hospital,  Dr Mataf & Dr Ritika said, "In these challenging times, Aykai Hospital has stood strong giving the best possible medical care to its patients and lived up to the theme of world kidney day by encouraging patient empowerment and striving to help people live a better life with kidney disease."

Covid pandemic has hit the entire world in the year 2020, Covid-19 pandemic, affecting the economies and the health infrastructure of even the developed nations. This set back to the health Care system had a great impact on the patients with kidney disease; due to difficulty in commuting to the hospital for regular dialysis and follow up. 

8 Golden Rules for Healthy Kidneys
1. Keep fit, Be active
2. Check and control your blood pressure 
3. Check and control your blood sugar
4. Dont Smoke
5. Eat Healthy eat
6. Dont take over the counter anti- inflammatory/pain killer pills regularly
7. Take appropriate fluid intake
8. Get your kidney function checked if you have one or more of the 'high risk' factors : diabetes, hypertension, obesity, family history of kidney disease