Commerce Department of DAV College organized its first alumni meet 
All alumni were honoured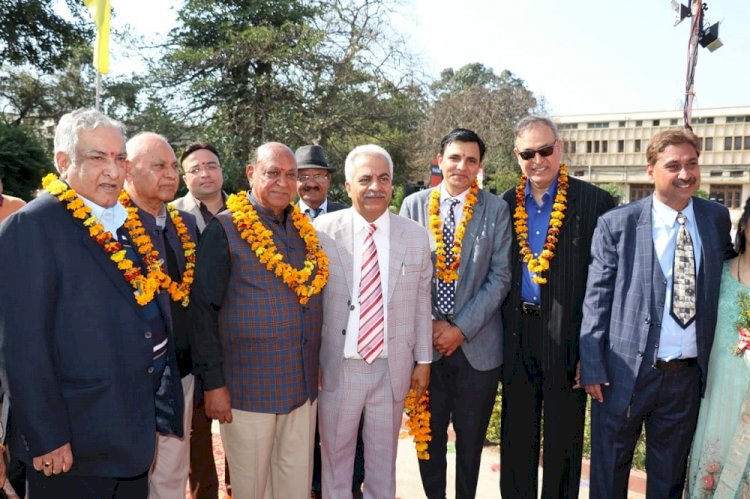 Jalandhar: There was a different atmosphere in DAV College, Jalandhar on Sunday. The college was established in the year 1918 where most students of the city are studying in one session. Many well-known chartered accountants, company secretaries, teachers, businessmen, bankers with wrinkled faces when they met their old friends once again , they could not recognize each other but when they looked closely, they hugged each other again with teary eyes. The Department of Commerce and Management of DAV College which is considered as the pride of the college was celebrating its first commerce alumni meet-2020. On this occasion, the students of Commerce once again arrived at their college in a grand ceremony organized in the college itself . Seeing such a meeting of these old friends after years, the current batch students standing there were also emotional.
 All the old students were very happy to be in the college again.They became a student once again, bypassing their growing age. They wholeheartedly remembered the old days with their friends. Their faces blossomed as they recalled old stories. Later, they left from there and shared information about their family, including the incident related to their lives.
 The program was chaired by MD Ashwani Kumar of Victor Tools, Principal Dr S.K Arora, Prof. Arun Mehra, Head of the Department ,Prof. Komal Soni, President of Commerce Forum and Prof. Ashok Kapoor, Incharge of Alumni Meet. College's distinguished alumnus and chief guest of the event Mr. Rajesh Vaid (MD, AR Sales, USA) and Guest of Honor Paul Chatra (Washinton DC), Bir Prakash (Australia),President of Jalandhar CA Chapter Umesh Dada was welcomed by Patron of the college which included Ashwani Kumar, Principal Dr. S.K Arora, Vice Principal Prof. Arun Mehra, President Commerce Forum Prof. Komal Soni, Alumni Meet Incharge Prof. Ashok Kapoor, Prof. Rajiv Sharma, Prof. Manish Arora, Prof. Rajeev Puri , Dean Public Relations Prof.Manish Khanna, Dean Placement Prof. Manav Aggarwal and Prof. Amit Jain.
 Mainly in the campus of DAV College, CA Rajesh Anand, CA Puneet Oberoi, Sahil Vijay (Head, Capital Local Area), Manisha (Professor at Apeejay), Manpreet (Professor Central University), Umesh Dada , CA Anoop Joshi, Harpreet, Arvind Gupta (Chief Financial Officer ) , Pushp Kohli (Marketing Head Bass), Karan Jain, CS Mohit Saluja, Neeraj Pathak, Kunal Juneja (Area Manager ,Kotak Mahindra), Rohit, Ashwani Kumar were honoured by Principal Dr. S.K Arora .
 More than two hundred students participated in the program. Many of these people have now settled abroad but they came specially to Jalandhar for this function.
 Years later, everyone became very emotional after seeing their college and old friends. In such a situation, while someone was kissing the bench of his class, someone stared at the campus. Their eyes were filled with tears after meeting old friends. Friends they met years later brought back memories . This experience of meeting in the same college after being separated from student life was very special. Some of then were teasing each other .The alumni met after years brought back memories of their college days. During this period, there was a period of lots of laughter in the memories of the bygone days. While the alumni shared their experiences in this program, they also went to the classrooms where they once studied. The event held here continued till late night.
 Guests were given a tour of the Campus "Inder Narayan Saraswati Bhagat" block along with the PG Department of Commerce and Management, Lab, Modern College Library.. Everyone was shocked and thrilled to see "Hall of Fame", the pride of the college.
 Rajesh Vaid, the Chief guest at the program, could not stop himself and said that alumni trust in the practice. He described the ceremony as historic. In the end, he congratulated all the former graduates for successfully completing their respective courses and contributing to the goodwill of this institution and also wished everyone a bright future.
 During this, students also presented many colorful cultural programs. Bhangra and dance were the main attractions on this occasion.
 On this occasion, Principal Dr. S.K Arora welcomed everyone and said, "I am very thankful to all of you. You are present here today to spend some time." We know that you must have had some difficulty in coming here after taking some time out of your busy schedule but I believe that the experiences of the moments that you take home this evening will be very precious. Our college started more than a hundred years ago, if we talk today, success of our students has been spreaded all over the world due to their development, education, knowledge and their performance. Excellent performance of many of you still remains in my mind. Our college has become one of the great institutions of the country which topped the ranking given by NAAC. Our institute has a conducive environment for all the major requirements such as a large campus, experienced faculty, dedicated students, necessary financial resources etc. In conclusion, I would like to praise all the roles played by all of you in the society. Many of you hold prominent positions in society. I would like to commend your efforts and admire.He said " I would like to thank all of you for your participation as well as support you have given towards the college. Hope you like this reunion arrangement. Wishing you all a wonderful evening and memorable moments, I hope you have a good time."
 The program was hosted by Prof. Manish Arora.
 What do alumni speak? 
  Mandeep Juneja (Juneja Forging) said that I have met many of my batch colleagues who have achieved great heights in their careers and have established their name in their industries. Thanks to our respected principals and teachers for this. It would not be possible to achieve all this without you. He said that when he was getting ready in the house, his wife said, why are you getting this much ready,you are not going to meet girls over there .He said that just this jealousy will remain in our heart that college was not a co-ed at the time.
  Umesh Dada (President CA Jalandhar Chapter) said that this college has given him invaluable memories. Banking and accounting classes, chatting in the canteen, sitting in the garden, library, lifestyle from teachers and countless other memories will always be cherished. The various activities organized by the college boosted our morale and made us believe why we are here today.
 Prestigious CA Puneet Oberoi said that the wide range of work we have done has given us responsibility for our society and enhanced our livelihood. Not only has this institution provided us a lot of learning experience but it has also given us an opportunity to participate in various social and cultural events.
 Business Man Arvind Gupta said that he has seen this organization grow day by day because of many talented and committed teachers. It is their courage, hard work and patience that help the students to study and perform well in their career.
 In addition to the non-academic activities, the lessons taught by our skilled professors have given us knowledge and guidance throughout the life. I am grateful to our teachers and professors for helping us in our college journey as well as helping us to attain good marks.
 Pushp Kohli of Vampire Sports said that his foundation was established by the DAV College, whatever I am today is because of the college. He also expressed his wish that whenever he will come to the college, Dinanath's Chole Kulchas will definitely be eaten.