Colors Tamil set to enthrall its viewers with two Mahasangamam of its popular fiction shows 
The channel brings together its enchanting shows Amman - Mangalya Sandhosam and its adorned shows Idhayathai Thirudathey - Sillunu Oru Kaadhal to entice its viewers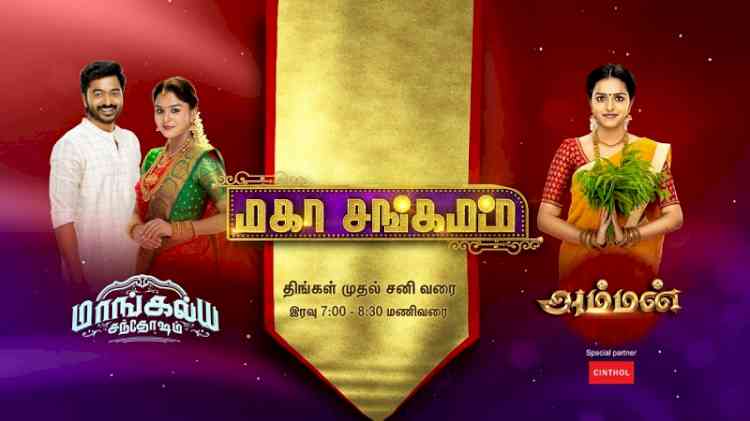 Chennai: Colors Tamil, the youngest GEC of Tamil Nadu, brings back to foray an exciting line up of Mahasangamam festival of its acclaimed fiction shows - Amman - Mangalya Sandhosam and Idhayathai Thirudathey - Sillunu Oru Kaadhal. The Mahasangamam episodes of these shows, promises to keep the viewers hooked to their screen, as it is charged with heightened emotions, vengeance and drama. Starting from 10th May, the Mahasangamam episodes of Colors Tamil's fiction shows will be aired from Monday to Saturday at 7:00 PM and, 10:00 PM and will also feature popular actress/VJ Maheshwari and charming actress/VJ Vaigha playing an engrossing cameo on the shows. 
The Mahasangamam episodes of Amman and Mangalya Sandhosam will comprise an intriguing blend of two different stories, where fate coincidentally draws the two leads of the show Sakthi (played by Pavithra Gowda) and Nithya (played by Lakshimipriya) to a sacred temple (Naga Kovil). The situation will take an alluring turn in Sakthi and Nithya's lives, as they encounter unexpected hindrances in their journey. On the flip side, the Mahasangamam of Idhayathai Thirudathey and Sillunu Oru Kaadhal will unwrap varied shades of emotions and drama as the two families of Shiva-Sahana (played by Navin-Hima Bindhu) and Suriya-Kayal (played by Sameer-Darshini), come together for a festival in a temple. While these families already grappled with their outflows, the show will spice up with added drama. Stay tuned to witness all the happenings unwind in these shows. 
Commenting on her cameo, actress/VJ - Maheswari said, "I am thrilled to be part of the Mahasangamam of Colors Tamil's two popular fiction shows, Amman and Mangalaya Sandhosam. It was an enriching experience to work alongside an energetic cast of these shows. My cameo character is sure to bring an unconventional twist to the entire plot of the Mahasangamam. and I believe that viewers will enjoy my cameo on the show as much as I did while filming it."
Commenting on her cameo, actress/VJ - Vaigha Rose said, "I was beyond thrilled to be associated with Colors Tamil once again, to play a cameo role in the Mahasangamam episode of Amman and Mangalya Sandhosam. It feels wondrous to be a part of an involving storyline and excellent cast and crew. Having put a lot of heart into the show, I hope that the audience will shower their love and appreciation for my character and enjoy the Mahasangamam."