CMC holds White Coat Ceremony for new MBBS batch
The ceremony concluded when the Principal  handed  over to the professional white coats to the  class representatives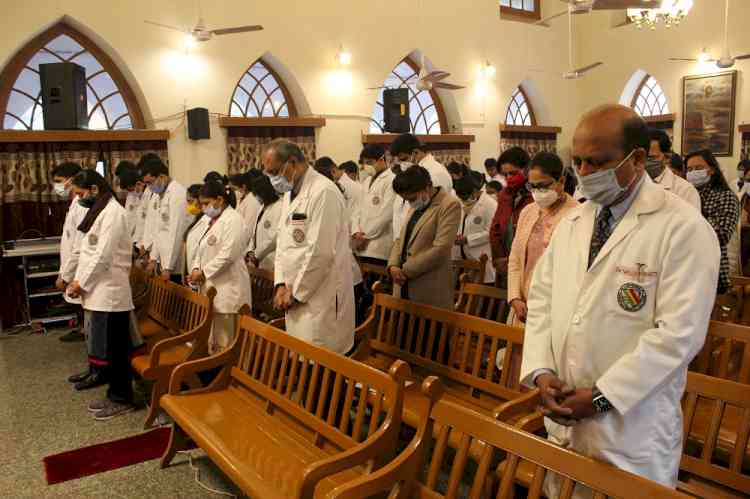 Ludhiana: Christian Medical College Ludhiana organised the White coat ceremony for the MBBS batch of 2020 students. This ceremony was held on the conclusion of 3 week long 'Foundation Course' which was introduced in the year 2019 as part of the New MBBS competency-based curriculum released by the National Medical Commission (NMC). Dr. William Bhatti, Director CMC spoke about the significance of the White Coat in medical college. He said that the white coat adds responsibility to young doctors for the patients and society.  
The Principal, Dr Jeyaraj D Pandian said that the new entrants into medical profession need to follow professional ethics while serving humanity. He then administered the ' White Coat Ceremony' oath  to the first-year students who pledged their loyalty to the profession of Medicine. This is a significant milestone in the lives of the budding doctors in their journey of lifelong learning in this profession. Dr Dinesh K. Badyal, Professor of Pharmacology and Professor of Medical Education and Convenor of the NMC Nodal center said that the  MBBS batch of 2020 is the second batch under the New Curriculum of NMC. Dr. Badyal and Dr. Abhilasha Williams, Vice Principal, UG studies, coordinated the Foundation Course which consisted of various sessions like time management, stress management, professionalism, safety precautions, basic life support, doctors & society, communication skills, alternative health care, cultural competency, gender concerns, disability issues, community health, working in health care teams, sports, language issues and computer skills. Senior faculty of the college conducted these sessions.  Few modifications were introduced to the Foundation Course this year keeping in view the rules and regulations regarding the Covid pandemic and the duration of the  course was condensed to 3 weeks.
The ceremony concluded when the Principal  handed  over to the professional white coats to the  class representatives who in turn handed them over to all the students.  The students then donned the white coats for the first time as they enter into the medical college to become the Indian Medical Graduates in this 126 year old renowned college known for its healing, medical education and research. The official prayer was led by Rev. Alex Peter. The Vice principals and faculty of first professional year were present at the event.