CMC-CBM Covid-19 awareness project-2020
24 Training Sessions conducted on prevention of Covid-19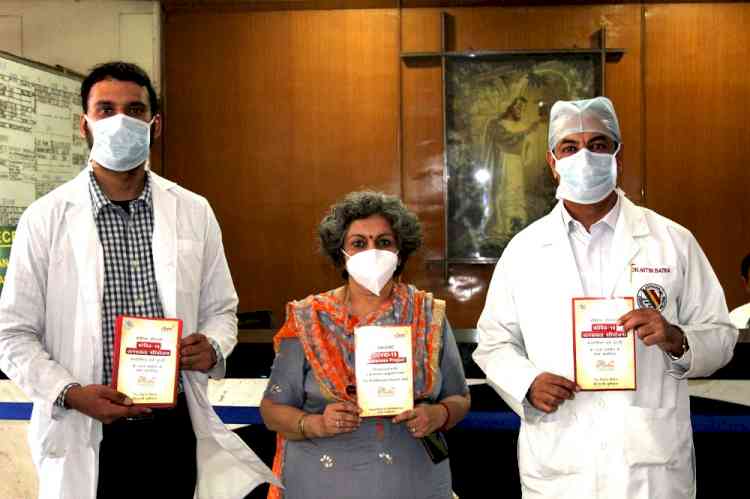 Ludhiana: The Christian Medical College & Hospital, Ludhiana is committed to serving the community during challenging times like the COVID-19 pandemic that we are facing as a nation. Our emergency and critical care services never halted during the lockdowns and curfews, and after some preparation and logistical planning to setup a dedicated COVID inpatient ward & ICU and screening services, we opened our Outpatient Department Services to patients from April 1st 2020. In the midst of this crisis, we also launched a telemedicine program to better reach our patients, limit their exposure, facilitate follow-up care, and serve those that are unable to travel for various reasons. We also received the ICMR approval to start a COVID testing facility.

Under the CMC-CBM (Christoffel Blinden-Mission)  Covid-19 Awareness Project (June to September 2020), hand rub sanitizers, disposable face masks as well as N-95 masks and Personal Protection Kits have been provided to the doctors and Health care workers at the base hospital, rural areas like Hambran center, Bilga center, Lalton Kalan, Field ganj, Jamalpur and to the social workers in various villages, panchayat members, ASHA and Anganwadi workers for their work in the field and also to many needy patients.
24 Training Sessions conducted on prevention of Covid-19
Information boards & pamphlets (Hindi, Punjabi & English) containing Covid-19 awareness and precautions have been distributed in our Hospital in the Receptions and Patient waiting areas under the activity 'Training on covid-19 Prevention and Management', and also presentations have been made to the community health workers, ASHA & Anganwadi workers and the village Heads in 24 villages. All the presentations have been made by Dr. Omung Bhardwaj, Non PG Resident, Department of Ophthalmology, CMCL and organized by Dr. Nitin Batra (Professor Ophthalmology/Project Head) & Mr. Abhishek Nathaniel (Project Manager) under the guidance of the Director, CMCL Dr. William Bhatti. This project has been conducted with a generous support from CBM & The Waldensian Church, Italy.