Club 21 Ludhiana awarded outstanding players
12 new members inducted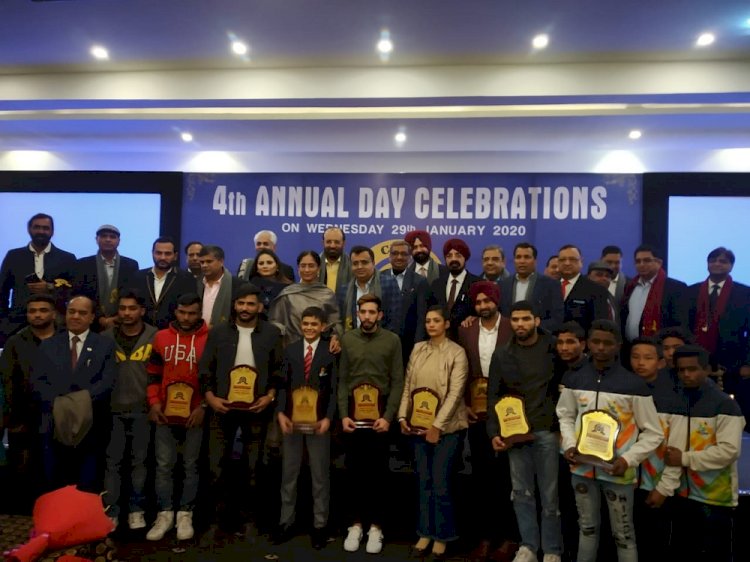 Ludhiana: The fourth anniversary Club 21 Ludhiana was celebrated on Wednesday evening at F2 Raceway, South City Road, Ludhiana. During this time, players who played an important role in the sports world were honoured. Along with this, 12 new members were also added to the club in view of the best work of the club. Rajiv Garg President, said that such an event is important for advancing talent. In view of this, from time to time, efforts are made to improve the society by doing such activities.
Four years ago, the task of assisting the well-to-do in health care, education and sports was taken towards the city's leading influencers. Under this, work is being done on behalf of the organization to help the needy people in these sectors to make them a leader in the country.
Mayor Balkar Singh, Chairman of the Improvement Trust, Raman Subramanian and Mamta Ashu (Councillor and wife of Cabinet Minister Bharat Bhushan Ashu) were present as the chief guest at the program. During this time the program was started after lighting the lamp. 
The vision of the club was first explained by the Principal Rajiv Garg and General Secretary Agyapal Singh that our aim is to cooperate to pursue talent. For this, prominent people of the city are cooperating and today those who contributed significantly in the Games were honoured. Among them, hockey player Mandeep Singh's brother Harminder Singh, wrestler Sandeep Singh, Varinder Singh, badminton player Lakshya Sharma, fencer Jasmin, Babi Verma, judo player Jasleen Kaur, cyclist Sahil were honoured. 
During this, the speakers told that many important works have been done on behalf of the club, including giving water coolers at Guru Nanak Stadium. Along with this, work was done to improve the infrastructure. 
12 new members were formed, among them Hemant Sood of Findoc, Amit Garg, Rajesh Goyal, Satish Goyal, Ashok Goyal, Sandeep Goyal, Raman Shaily, Sanjay Garg, Ashwani Gupta, Harman Garewal, Dr OP Arora. During this, Ayush Bhalla (Immediate Past President), Madan Goyal, IPS GS Dhillon (Club patron), former DGP DR Bhatti, Rajiv Garg, Councillor Sunny Bhalla, Pardeep Sareen, Upkar Singh Ahuja, SMO Dr Avinash Jindal, KC Gupta, Parveen Aggarwal, Mohinder goyal were present.