Club 21 congratulates wrestler Sandeep Singh Mann 
Player wins gold medal in the 3rd edition of Khelo India National Youth Games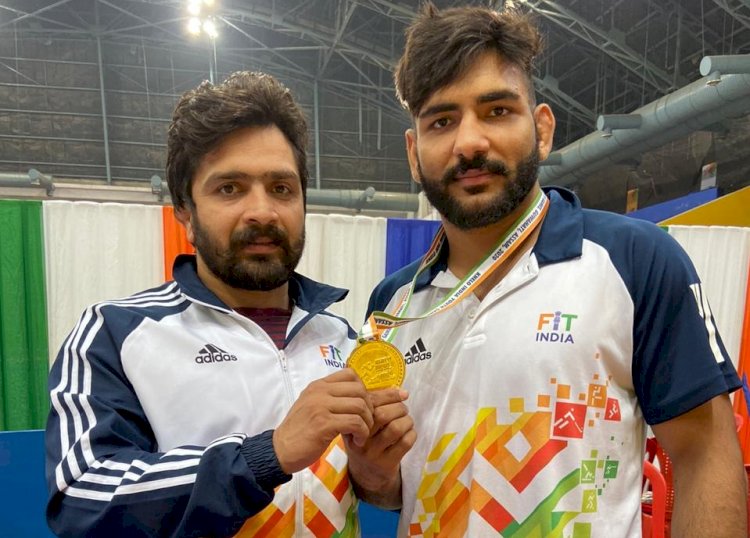 Wrestler Sandeep Singh Mann shows gold medal. 
Ludhiana: Club 21, a Ludhiana-based charitable society, has congratulated Sandeep Singh Mann on winning gold medal in the 3rd edition of Khelo India National Youth Games held at Indira Gandhi Stadium, Guwahati (Assam) on January 19.
In a statement here today, the Club president Rajiv Garg and Member Hemant Sood added that Sandeep Singh Mann is a "Star Wrestler" for them. They said Club 21 has been sponsoring Sandeep Singh's diet from last 4 years. Sandeep used to practice at Miri Piri Akadha at Khanna under the guidance of his coach Sukhmandar Singh.
They revealed that Sanddep has also won the gold medal in senior national championship played on November 29 last year. This national championship was held at PAP Ground at Jalandhar, which Punjab has won gold medal due to the efforts made by Sandeep.
Club 21 has been supporting the deserving people in the field of health, education and sports. It was formed in 2016 with 21 founder members from different backgrounds. It has supported the young budding players including the Indian hockey star Mandeep Singh, renowned wrestler Sandeep Singh Mann and Judo Commonwealth Champion Jasleen Singh Saini.