Climate change if not checked will have serious consequences on human life
Warns Climate Scientist Dr Dhaliwal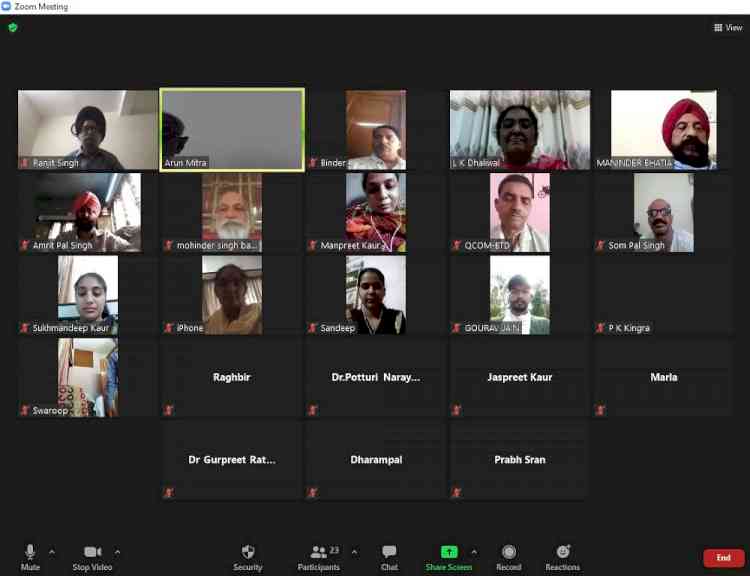 Ludhiana: "Climate changes occurring as a result of human activity particularly the deforestation and rapid uncontrolled and unchecked Industrialisation have led to bizarre climate from time to time. As a result we are seeing global warming which is leading to rise in sea level and repeated events like tsunami. Such changes are adversely affecting the crops and increase in different types of pathogens thus affecting agriculture as well as human health directly or indirectly" said Dr. L.K.Dhaliwal former Head and Professor of Climate Change and Meteorology department at PAU Ludhiana.   
Due to climate change, our country will face the challenges viz water security risks, Food security risks, Health security risks, Energy security risks and Personal security risks. All these climate changes will affect our natural environment. Temperatures in India have risen by 0.7°C between 1901 and 2018, thereby changing the climate in India. A 2018 study projects droughts to increase in Northern and North-western India in the near future.  Around the end of the century, most parts of India will likely face more and more severe droughts. Severe landslides and floods are projected to become increasingly common in such states as Assam. It is estimated that if the predictions relating to global warming made by the Intergovernmental Panel on Climate Change (IPCC)   come to fruition, climate-related factors could cause India's GDP to decline by up to 9%; contributing to this would be shifting growing seasons for major crops.  
Data on monsoon rainfall of Punjab (from 2000 to 2020) indicates that the deficit rainfall was reported during most of the years which is a major concern. If deficit rainfall trend continues in future during monsoon season, it will further lower down ground water table in Punjab. So the adaptation strategies should focus more on water saving technologies in kharif season.  
She warned that if effective steps are not taken globally as well as locally there would be serious consequences on human life including food insecurity and new types of diseases. The developed world is mainly responsible for the global climate change and they must now bear the responsibility. There have been several agreements worldwide to reduce the carbon level in the atmosphere which is the main cause of global warming.  
But unfortunately the USA which is the main culprit is not taking such agreements seriously instead walking out of them. On the contrary they are blaming the developing and poor countries and prompting them to reduce industrial activity. It is the rich who are responsible for these changes and the rich in the poor countries are equally responsible. Therefore, we all have to change our lifestyles to suit the climatic effects while also making use of modern technology. Dr Arun Mitra warned that continuing arms race globally is a major cause of high level of carbon in the atmosphere. This arms race must stop. Studies have shown that even a very limited use of nuclear weapons could lead to nuclear winter causing crop failure globally and put over 2 billion people at the risk of starvation and death. This is a very serious situation which the human society has to address. For this there is a need for conscious activity on the part of civil society. Others who spoke during the webinar include M S  Bhatia, Ranjeet Singh, Kuldip Singh Binder. It was resolved to spread this message widely in school children, college students as well as society at large and impress upon the governments for effective measures. /(April 21, 2021)