CityNeeds Daan Utsaav in Punjab from Oct 2-8
In partnership with Ludhiana Municipal Corporation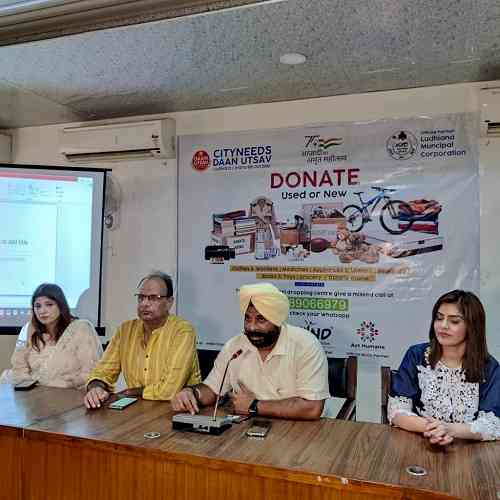 Ludhiana, September 29, 2022: CityNeeds Daan Utsaav is being celebrated in Ludhiana, Jalandhar, Amritsar, Pathankot & Moga from 2nd to 8th October with official Partners as Municipal Corporation Ludhiana, informed Jasdev Sekhon Zonal Commissioner Municipal Corporation Ludhiana. The same activity is being done in association with Voice of Amritsar,  Rotary International, Sodhi Charitable Trust in Amritsar Pathankot and Moga. 
Rahul Verma Member State Traffic Council said that Daan Utsaav earlier known as Joy of Giving is a national festival where people, communities, institutions and industry come forward and share what they have with others who are not so fortunate. 
In association with Municipal Corporation Ludhiana CityNeeds has set up over 30 dropping centres in Ludhiana where people can donate items (Used or New) such as clothes, woollens, beddings, books, toys, utensils, appliances, medicines, dry waste etc. All material will be picked up and taken to The Indoor Stadium Pakhowal Road where it will be segregated and given to local NGOs as per their requirement. Clothes will be given to Neki Ki Dukaan, Nishkam Vidya Mandir, Bhavdev, self help groups to make cloth bags, books & stationary will be given to Helping Hands Club, Initiators of Change, Do Good Foundation, toys to Nishkam Vidya Mandir, Clio Care Welfare Association, SBG Balghar, medicines are for Bharat Vikas Parishad Vivekananda Sewa Trust counter outside DMC, Eknoor Neki Da Hospital, Dispensaries and charitable hospitals, bedding are for senior citizen homes like Vivekananda Sewa Ashram, Guru Amar Das Ashram, Dry Waste to Switch for Change, Eco Mela etc   
Various other organisations like DAV Public School BRS NAGAR, Lodhi Club, Punjab Jeep Club, Pavilion Mall, La Pinoz Pizza Model Town   are also celebrating CityNeeds Daan Utsaav. 
To find out your nearest dropping centre one has to give a missed call at 8289066979 and the options will appear on your WhatsApp informed Maneet Dewan. 
The campaign has been sponsored by the official NGO partners Women Next Door and Act Humane, logistics support is provided by Municipal Corporation and all volunteers for pick up and segregation are from Marshall Aid. 
CityNeeds has built an online platform for local NGOs to connect with nearest donors and volunteers through which people can get associated with NGOs of their choice, help them with material, volunteers or cash donations. As of now 76 NGOs in Ludhiana have joined hands with CityNeeds.