City to host International Conference on Sri Guru Nanak Dev Ji's Philosophy
International Conference to be inaugurated on Feb 1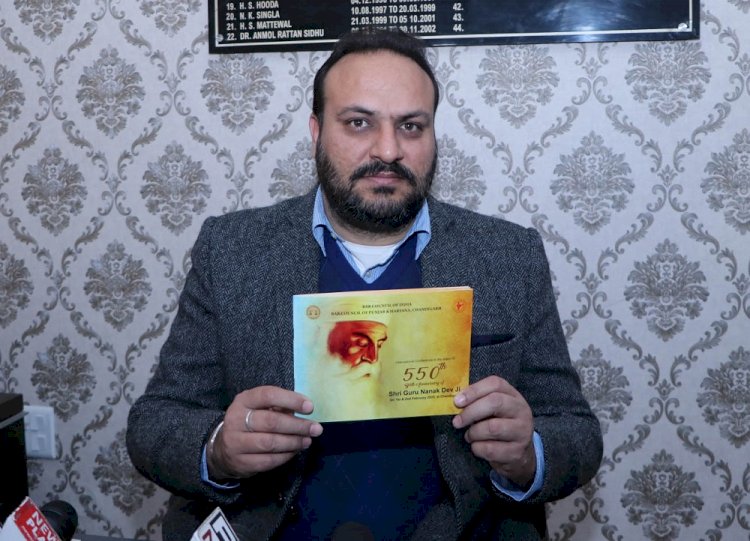 Harpreet Singh Brar, Chairman (Bar Council of Punjab & Haryana) addressing media persons.
Chandigarh: In its own unique way to commemorate the 550th Birth Anniversary of Sri Guru Nanak Dev ji, the Bar Council of Punjab and Haryana is organizing a one-of-a-kind international conference themed on "philosophy of Shri Guru Nanak Dev Ji and its relevance today."
 
The conference will be inaugurated by Hon'ble Justice Sharad Arvind Bobde, Chief Justice of India and shall be held on 1st and 2nd February in Panjab University, Chandigarh. While the Inaugural Session on February 1 will be held at 11 am at Gymnasium Hall, Panjab University, Sector 14, Chandigarh, the valedictory session will be held at Law Bhawan on February 2 at 12 noon.
 
Addressing media persons, Harpreet Singh Brar, Chairman (Bar Council of Punjab & Haryana) said that the main reason behind organizing this conference is to discuss Shri Guru Nanak Dev Ji's philosophy and its applicability in Equity, Social Justice and Environment today.
 
The inaugural session will also witness the unveiling of a book – "The First Sikh – The Life and Legacy of Guru Nanak" written by Crawford professor, Nikky-Guninder Kaur Singh of Penguin Publication, U.K.
 
This will be followed by Plenary session which will be chaired by Hon'ble Mr. Justice Surya Kant and presided over by Hon'ble Mrs. Justice Cheema Grubb. Five working sessions will be conducted in which the participating delegates, students and teachers from 118 Law Institutes will present papers on five different topics and the selected papers will be published in the Indian Bar Review published by Bar Council of India.
 
Each working session will be chaired by the Judge of the Punjab & Haryana High Court and Vice Chancellor of the different Universities. The conference will culminate on 2nd February 2020 with the valedictory session.
 
Eminent internationally renowned personalities who will grace the conference with their presence include Hon'ble Justice Surya Kant, Judge Supreme Court of India, Hon'ble Justice Rinzin Penjor, Supreme Court, Bhutan, Hon'ble Justice Cheema Grubb from England, Hon'ble Justice P.P. Surasena Supreme Court of Sri Lanka, Hon'ble Chief Justice of Punjab and Haryana Ravi Shanker Jha, Manan Mishra Chairman Bar Council of India, Mr. Horacio Bernardes Neto, President of International Bar Association, Michael A.N. N. Oquaye Esq. High Commissioner of Ghana, Hon'ble Justice Indira Banerjee, Judge Supreme court of India will chair the Valedictory Session.
 
Besides this, Global Achievement Award in Protection of Environment will be conferred to Balbir Singh Seechewal, Global Achievement Award in Social Service to SPS Oberoi, Global Achievement Award in Journalism to Baljit Balli and Global Achievement Award in Promotion of Punjabi Art Culture and Poetry to Padma Shri Surjit Patar.
 
Professor Pritam Singh from Oxford University would be the keynote speaker, eminent Scholars Professor Doris Jakobsh from Waterloo University and Dr. Mark Juergensmeyer from University of California would be plenary speakers, Ujjal Dosanjh, former Attorney General & Federal Minister of Canada and Harinam Singh Khalsa, renowned Kundalini Yoga Master and Sikh Preacher from New York, are among other speakers.
 
Law makers, Jurists, Diplomats, Scholars & Delegates from U.K. U.S.A., Canada, Australia, Malaysia, Singapore are likely to attend the conference. More than 400 delegates including the Office Bearers of various State Bar Councils and High Court Bar Associations from India will also be attending the conference.