CICU arranged meeting with SHO Focal Point 
All Chowki In-charges of Focal Point Areas were also present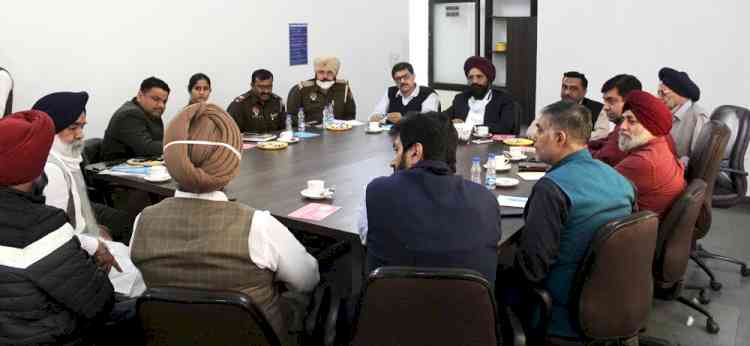 Ludhiana: Chamber of Industrial and Commercial Undertakings (CICU) arranged a meeting with Davinder Sharma, SHO Focal Point and all Chowki In-charges of Focal Point Areas.
Upkar Singh Ahuja, President, CICU emphasised the need to increase police patrolling as cases of snatching, stabbing and thefts are increasing day by day. There is a panic amongst the workers who are working in these areas. He also suggested that area wise meeting should be arranged with industrialists to identify the hotspot areas in focal point.
Pankaj Sharma, General Secretary, CICU emphasized that increasing the patrolling in hotspot areas will help to reduce the crime, especially on the days of payment to workers. He also highlighted that they have requested many times to police officials about the traffic jams in specific areas due to big trollas illegally parking on the road, but nothing has been done so far.
Davinder Sharma, SHO Focal Point assured that industrialists issues will be taken on top priority and the new strategies will be implemented soon to control the traffic and crime in the Area. He also assured that Police Patrolling will be increased especially during Pay days.
The meeting was attended more than 30 prominent industrialists some by namely Phuman Singh, Honey Sethi, Jatinder Mittal, Sarvjit Singh, Gautam Malhotra, Surinder Singh Chauhan, Anil Sharma, Sanjay Dhiman and other member were also present.