Christian Medical College Ludhiana principal Dr Jeyaraj D Pandian receives global stroke services award
The award has been conferred for his contribution to the development of stroke care services in India and other developing countries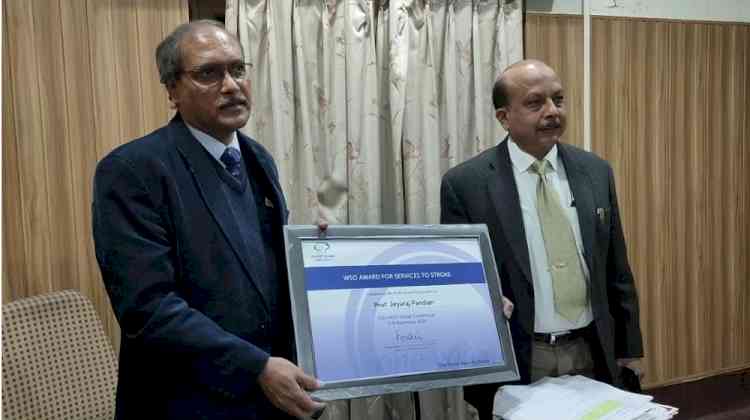 Ludhiana: Prof Jeyaraj D Pandian, Principal, CMC Ludhiana received the prestigious Global Stroke Services award conferred by the World Stroke Organisation (WSO) for his contribution to the development of Stroke care services in India and other developing countries. He is the first Asian to receive this award at the recently concluded joint virtual World Stroke Congress and European Stroke Organisation Conference held from Vienna, Austria. Dr Pandian is also the current Vice-President of the WSO. He had chaired the International Working Group of the World Stroke Campaign and is a member of several committees in WSO. 

Dr Pandian developed the Ludhiana urban population-based stroke registry in the year 2013 and with the department of Community Medicine at CMC completed the Rural population-based stroke registry two years ago. The above stroke surveillance models are have been implemented by Indian Council of Medical Research in 5 other regions in India. 
Another significant achievement is that he organized the Xth World Stroke Congress in Hyderabad in the year 2016. He also developed a specific model of stroke unit care known as the Tezpur model in a remote hospital in eastern India which is now being replicated through the Organisation of Stroke Care Services in all Income Levels (OSCAIL) as a project in both India and Africa.  Even more recently he has been instrumental in implementing India's first Mobile Stroke Unit in a rural area at Baptist Christian Hospital, Tezpur, Assam. This novel project is supported by the Indian Council of Medical Research and was inaugurated by the Honorable Union Health Minister Dr Harsh Vardhan in the month of September.

With funding support from Indian Council of Medical Research, he created the first ever disease network for clinical trials in India named as Indian Stroke Clinical Trial Network (INSTRuCT). This is a network of 31 stroke centers in India and currently there are two ongoing stroke trials and 5 more stroke trials have been approved for the year 2021 by ICMR.  

He has actively worked with World Health Organisation (WHO) Geneva, South East Asian Regional Office (WHO SEARO), New Delhi developing modules in stroke care and been involved in the generation of a document on technology in stroke. Perhaps even more importantly, he has worked, together with colleagues, to make thrombolysis for stroke (tPA) listed in the essential medicine category of the WHO. More recently with WHO SEARO he is involved in developing stroke care services in Myanmar, Maldives, Bhutan and Timor Leste. 

Dr Pandian has mentored several medical students, residents, and faculty in stroke research. He has published more than 200 scientific papers in several high impact journals. On receiving the award Dr Pandian said that "I am grateful to God almighty for this recognition given to me for stroke services". He also acknowledged and thanked the administration of CMC, colleagues and staff of department of Neurology and also the entire research team. 

Dr William Bhatti, Director CMC said that it is a matter of great honor for CMC, Ludhiana and for the state of Punjab, that he has been conferred this award. He also added that the department of Neurology is the only center in the region to have all the facilities to treat stroke or brain attack. The department has the Neurointerventional DSA lab, stroke patients who reach within 24 hrs can benefit from removing the clot in the brain using a stent. Dr Anirudh Kulkarni, Neurointerventionalist and Dr Vivek Agarwal Neuroradiologist and Neurointerventionalist at CMC Ludhiana stated that stroke patients if they reach on time will be able to avail this new treatment.