Charanjit Singh, General Manager PNB attained age of superannuation 
He rendered public service of around 39 years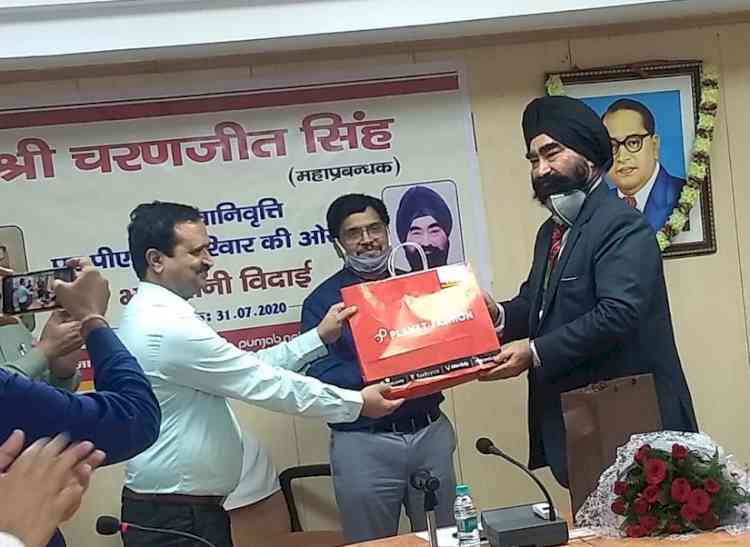 Chandigarh/Ludhiana: After rendering public service of around 39 years, S. Charanjit Singh, General Manager PNB attained age of superannuation at the close of business hours on July 31, 2020. 

In RBI, he worked in Divisions of Industrial Studies, Reports, Review & Publication & Fiscal Analysis and undertook policy supportive research work in the related areas. He had also worked as In-charge of Economics Department, (DEAP) Regional Office, Lucknow. He was as a Member of Faculty for more than three years in erstwhile Bankers Training College (BTC), an apex Training establishment of RBI and used to conduct Training Programs on Financial Economics, Central Banking, IES Probationers, Treasury Management, Union Budget, Functional Hindi etc and took sessions in these training programs. In earstwhile Corporation bank he was In-charge of Economic Intelligence, Planning & MIS Division and used to play a significant role in planning & resource mobilization division besides providing key inputs on Macro Economic issues to Top Management on regular basis. Bank Economists Conference (BECON) was hosted by eCorporation Bank in which he played a key role along with Committee of Economists of Indian Banks Association (IBA). In eOBC he worked in different departments such as Economic Research and Business Planning, Corporate Strategy & Planning, Compliance, Complaints & Operations, Rajbhasha, Recovery etc. He was the Editor of Bank's monthly magazine "Economic & Banking Bulletin". He served as Principal at two Training Establishments of eOBC and used to take sessions on Motivation & Personality Development, Compliance Functions in Banks, Recovery, Complaints Resolution Mechanism, Customer Service, Banking Ombudsman Scheme, BCSBI, Currency Management, Performance Budgeting, Banking Sector, Monetary Policy, economic sector scenario & Functional Hindi etc. He was associated with a number of research scholars/University students who were pursuing their MBA (Finance)/MA (Economics) from a number of universities/Business Schools Pan India. Besides, under C H Bhabha Research Scholarship & Award Scheme 2004 of IBA, He acted as Guide and supervised the research project of two Research Scholars on the Topics" Effectiveness of DRTs in Recovery of Bank Dues" by Mohmmad Farookh Khan and "Microfinance through Self Help Groups (SHGs) – Outreaching and the impact on the Poorest" by Shri P K Baphna. He is the author/Joint Author of two books on "Microfinance through Self Help Groups (SHGs) – Outreaching and the impact on the Poorest" with Sh. P.K. Baphna, DGM, Bank of Baroda, and edited the book on "Vaishvikaran and Hindi Ka Vikas". Besides, he presented a number of research papers of Topical Interests from time to time at National Seminars organised by various universities/Business schools/Industrial Institutes etc. 

He had also published a number of articles on Monetary Policy, Service Sectors, Banking Sector Reforms, Bank's Profitability & their social Responsibilities, Rupee Rise and Macro Economic Perspectives etc. in Newspapers and in Banking Chintan & Anuchintan (a Quarterly journal of RBI), IBA bulletin and Institute of Asian Studies. Besides, he published a number of Book Reviews on different topics which were published in the above referred journals of RBI and IBA. He had got the rare opportunity to serve on the Editorial Board of RBI's Quarterly Journal "Banking Chintan & Anuchintan" twice.