Channi trying to befool Punjabis like his predecessor Capt Amarinder:  Sukhbir Badal
Says mismanagement of PSPCL would result in closure of thermal plants, failure to give salaries to employees and massive power cuts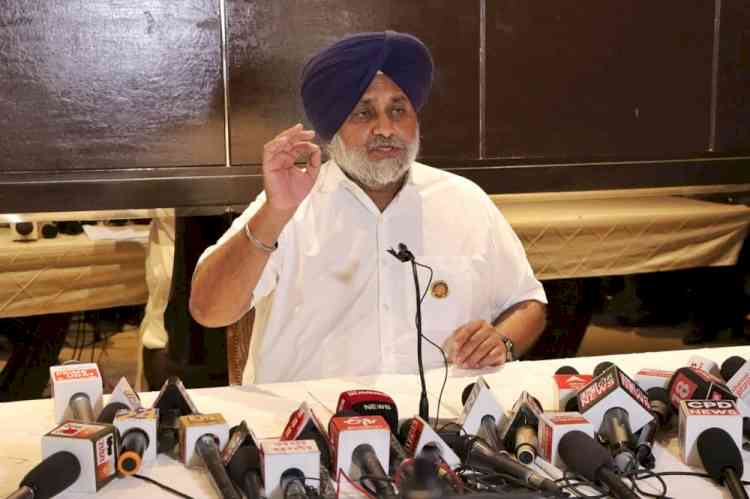 Shiromani Akali Dal (SAD) President Sukhbir Singh Badal addressing the media persons at Ludhiana on Tuesday.


Ludhiana, November 2, 2021: Shiromani Akali Dal (SAD) President Sukhbir Singh Badal today said chief minister Charanjit Singh Channi was trying to befool people in the same manner as his predecessor Capt Amarinder Singh and did not have any intention of keeping the promises made by him including reducing power tariff by Rs 3 for domestic consumers.
Talking to newsmen here, the SAD President said, "The chief minister is indulging in political stunts. Channi  admitted as such yesterday by saying he only wanted consumers to get one reduced power bill. Even Navjot Sidhu has exposed his own government saying sops were being given only for 2 months to fool voters. Objections raised by Sidhu have also left the door open for the Congress party to renege on this promise".
Sukhbir Badal said Channi had failed to tell how he would make good on his promise when his government's corruption and mismanagement had virtually bankrupted the PSPCL. He said the State government owed PSPCL farm subsidy of Rs 4,500 crore and its departments owed it Rs 2,231 crore. "If you take all subsidies into account including Rs 3300 crore due to the latest announcement and bills that have been waived off the subsidy bill will come to Rs 13,934 crores".
Asserting that the government did not have any road map to meet the financial requirements of PSPCL, Badal said this mismanagement would result in the closure of thermal planets, disruption of coal supply, failure to give salaries to employees and massive power cuts.
Speaking about the government's intentions to bring in resolutions to cancel the PPAs with private thermal plants, he said in case the government intended to do this it should come out with an executive order instead of mere resolutions which would achieve nothing. "The government should take into account the penalty of around Rs 10,000 crore which it would have to pay as well as the challenge of acquiring 4,000 mega watts of power at same or cheaper rates. The government's present track record does not inspire any confidence. It has purchased power at rates between Rs 12 to Rs 15 per unit when it has captive power plants which have bound to supply power to it below Rs 3 per unit".
He said similarly executive decisions should also be taken not to implement the 3 farm laws as well as refuse extension of BSF jurisdiction in Punjab from beyond 15 kilometers to the present 50 km as ordained by the Centre.
Speaking about the other promises made by the chief minister, Badal said the Congress government did not release a single dearness allowance instalment to employees in the last four and a half years. He said employees were owed arrears of Rs 5,000 crore which should be cleared first before making any further announcements. He said similarly pay commission arrears of Rs 12,000 crore were pending which were to be paid in 9 half yearly instalments and which burden like others would be borne by the next government.
Commenting on the financial health of the State, Badal said the States debt had risen by a whopping Rs 91,000 crore during the Congress regime. "From a debt of Rs 1.82 lakh crore during the previous government it has shot up to Rs 2.73 lakh crore now".