Chandigarh's Tasveer, creator of gazelle candles, turns her hobby into a business
With the pandemic keeping everyone locked indoors, Tasveer ventures into speciality candle business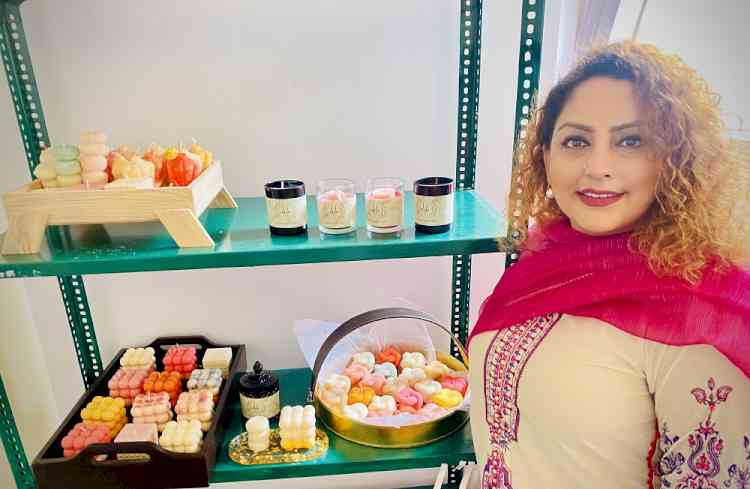 Tasveer with her candles.


Launches environment friendly candles
Chandigarh, September 3, 2021: Name the candle and you have it here. Fashion candles, bubble candles, shell candles, fragrance candles, energy candles and healing candles all are available under one roof. One can choose from strawberry, vanilla, peach, lavender, gardenia, cedar wood, ylang ylang, rose wood, hibiscus and coffee fragrances.
"All candles are soy based candles and what makes these better over the regular candles is the fact that these are made from vegetable oil soybean which does not increase the carbon dioxide level in the environment whereas paraffin candles are made from petroleum oil. Soy wax burn 50% longer than paraffin wax," said Tasveer, the creator of Gazelle Candles.
"My bestselling are Oudh Candles. Fresh floral, powdery and musky notes are layered and blended with earthy patchouli and sandalwood. This soothing aroma is reminiscent of a heady Arabian night and will invite harmony and peace around any space," shares Tasveer.
Further she adds, "People are really going in for Sage candles these days. It imbibes positive energy around you and its fragrance fills the whole air with a sage scent and clears the energy in the air. It helps in getting rid of negative energies, relives stress, boosts mood and improves sleep quality".
Sharing her journey into the world of fragrance and aroma, Tasveer recalls how she turned her childhood hobby into her small business. "As we are passing through a pandemic and everyone is stuck inside their houses for most of times and lockdowns have become a common thing, I was feeling restless from inside and did not want to just waste the precious days of my life. I made up my mind to do something, to take up some venture and give a new turn to my life. This is when my childhood hobby 'candles making' struck my mind. I knew how to make candles, after doing a lot of research and studying the market, I finally kickstarted my own small venture," says Tasveer, a staunch supporter of women empowerment who always believes in the ability and agility of women in making her dreams come true.
When words fail, candles do the talking, whether it's an expression of gratitude, regret or a soft yet powerful declaration of love. Candle therapy is when you light candles to lift someone's spirit or even yours while healing candles energise with specific purpose, adds Tasveer.
Gazelle candles make sure not only to spread aromatic vibes but also add a touch of healing power to your life. So, don't forget to choose one for yourself !!
Tasveer is organising an exhibition of her candles at Cafe JC's at Sector 10 on Saturday.