Chairperson of Punjab State Women Commission visits Ludhiana 
Issues necessary directions to police officials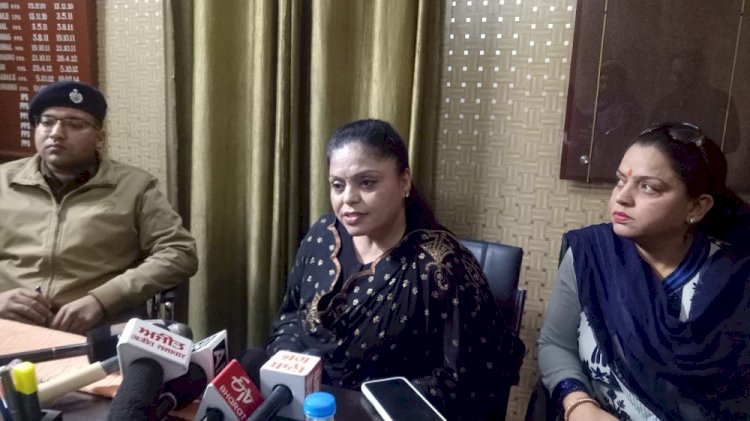 Ludhiana:    Mrs Manisha Gulati, Chairperson, Punjab State Women Commission, today visited the women cell of Police Commissionerate Ludhiana and issued necessary directions to the senior police officials. During the interaction with DCP Mr Akhil Chaudhary, ADCP Mr Sachin Gupta and ACP Miss Prabhjot Kaur, she said that the main aim of the Punjab State Women Commission (PSWC) is that all marital disputes are resolved.
She asked the police officials that once they themselves carry out an investigation and fail to resolve a particular case, then before registration of an FIR, the police should forward those cases to the PSWC. She assured that the PSWC would try to resolve all these cases on priority basis.
Mrs Manisha Gulati informed that the commission has organised a Lok Adalat of such cases yesterday, in which 40 cases were put up, and 7 were resolved amicably. She said that the PSWC is committed to ensure that all cases of marital disputes are resolved and people live happily in their homes with their families. She said that in this fast moving life, sometimes, its just a matter of ego clash that leads to misunderstandings between a husband and wife or with families. She said that little bit of adjustment by both boy and the girl is a key to successful and happy married life.
She also appreciated the working of the Women Cell of Ludhiana Police and said that they had disposed off close to 4000 cases last year, and only 152 FIRs were registered. "This clearly shows that the Ludhiana Police is focussing more on reconciliation and compromise between both the parties, rather than just registration of an FIR," Mrs Gulati said. During the meeting, the police officials informed that 41 counsellors have been deputed in the city, who have been providing their services for the betterment of the society.
She also shared her personal mobile number on which women in distress can make calls. She said that some women are facing difficulties in filing the complaints and lodging of written complaints are time-consuming. So keeping this in mind, she has decided to issue her personal mobile number 88659-00064 as helpline number. From now onwards, women can register their complaints directly with her.