Centre for Human Rights and Duties launched "Project Reach"
Celebration of Human Rights Day 2020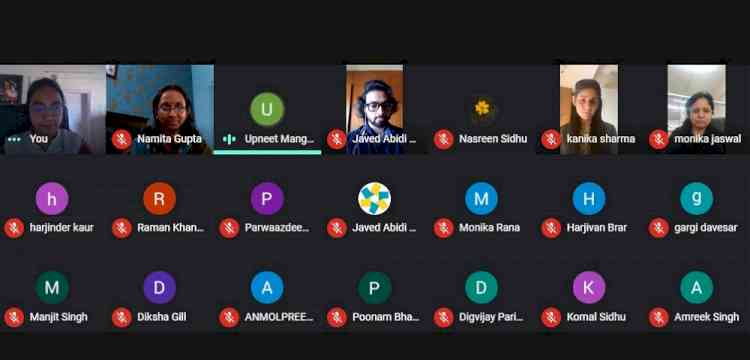 Chandigarh: The Centre of Human Rights and Duties, Panjab University, Chandigarh commemorated International Human Rights Day ,today. Namita Gupta, Chairperson stated that keeping in mind the UN's theme for Human Rights Day 2020 " Recover Better- Stand Up For Human Rights", the event has been organized to sensitize the students on human rights advocacy in the field of disability rights in the backdrop of COVID 19 pandemic, with a particular focus on outreach to the community and reaching out the unreached.
 
The auspicious day, that celebrates 72nd Anniversary of the Universal Declaration of Human Rights, began with an address by Prof. V.R. Sinha, Dean Research, Panjab University. He emphasized on the concept of 'Aatam Nirbhar' of oneself, and compelled us to look around because violation of human rights' starts from right there.
 
The talk was delivered on 'Disability Rights Are Human Rights' by Shameer Rashid, Founder- Convenor of Javed Abidi Foundation, Youth Chair of Religions for Peace India, and Member of the Asian Pacific Interfaith Youth Network under RFP, International.  He apprised the audience  that he founded JAF in memory of his uncle Javed Abidi in June 2019. It seeks to embody Javed Abidi's "never say never" spirit by raising the bar for advocacy on non-discrimination and access to information and services. Javed Abidi is regarded as the father of the cross-disability rights movement in India. He played a pivotal role in the passage of the first law on disability The Persons with Disabilities (Equal Opportunities, Protection of Rights and Full Participation) Act, 1995. He then lobbied for disability to be included in the Census of 2001. He made sure that University Grants Commission formulated a policy on disability to make Government Universities and Colleges accessible. From sharing the personal experience of honoring the legacy of his uncle, to the idea of inclusivity of all individuals, irrespective of all the disabilities, Mr. Shameer Rishad guided the participants through the interactive understanding of the disability and human rights. Participants got an insight on the Disability Issues like the contention on use of terminology ' disabled', segregation by the society and everyday harassment that the disabled people undergo. Mr. Shameer also threw light on various advocacy initiatives undertaken by JAF for instance, providing legal assistance to differently abled persons and role of youth as harbingers of change in the society in promotion of rights of the differently abled, especially by being empathetic towards them.
 
Besides the talk, a project named "Project Reach" was also launched. The students of the Centre Aanchal Sawa, Nasreen Sidhu, Ramandeep Kaur, and Harjinder Kaur explained the  aims of field action project (FAP) launched by a team of 9 students from the Centre in their respective hometowns and calling it an action to 'Reach the Unreached' students of government schools and assisting them with need based intervention in the backdrop of Covid -19 pandemic, with an aim of extending a hand to help students attain a good quality education; some students also narrated their experiences of visiting schools and how they came to assess the ground reality of problems confronted by teachers and students in access to online education. They also presented a road map for providing assistance to these schools in a sustainable way.
 
Dr. Upneet Mangat, Assistant Professor, Centre for Human Rights and Duties concluded the webinar with a constructive and optimistic note; and, with an invitation for a forthcoming brainstorming session by Javed Abidi  Foundation on mainstreaming Disability under different thematics, namely; Child Rights, Health, Age Related, Nutrition, Gender & Sexuality and Environment & Education (C.H.A.N.G.E.).