Central University students and researchers making masks in their spare time
These masks are distributed among their neighbours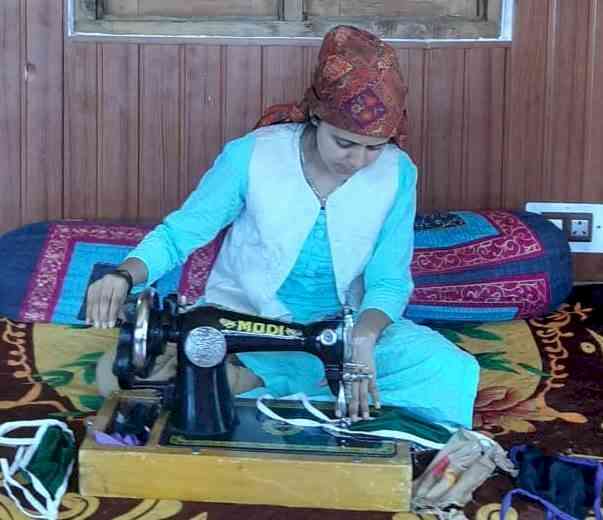 Dharmshala: Students and researchers of the Department of Sociology of Himachal Pradesh Central University Dharamshala, are taking online education and motivating people to avoid the Corona epidemic.
Students and researchers from various districts are making masks in their spare time after studying online. Dr. Pooja Awasthi Public Relation Officer (PRO) of the CU Dharamshala said that Shinam Kausar from Kishtwar district of Union Territory of Jammu and Kashmir, Kirti Sharma from Jammu district and Nargis Khatoon from Kargil district of Union Territory of Ladakh are making masks in their respective homes. Simillerly  Laxmi Parmar of district  Kullu and  Premlata, Yogeshwari, Manisha Vasistha, Deepika  Thakur and Pingla Devi, Aash from Kangra district, Shish Sharma, Harpinder Kaur, Shailaja Mehra, Payal, Kusum, Navita, Tamanna, Rachna, Rishabh, Jaswinder and Ravindra Parmar from District Chamba, Lobhi Ram, Ankit and Kiran Rana from Pangi tribal area of Chamba district  are  also contributed to this noble cause. Awasthi said that she was told that these masks are prepared and distributed among their neighbours.
Dr. Shreya Bakshi, Professor, Department of Sociology, has encouraged students and researchers to make masks in times of this epidemic due to limited resources in their homes and asked them to distribute the masks to their families and neighbourhoods.