CENTER MUST RELEASE GST ARREARS OF PUNJAB: TEWARI 
SAYS PEOPLE SHOULD FOLLOW CURFEW SERIOUSLY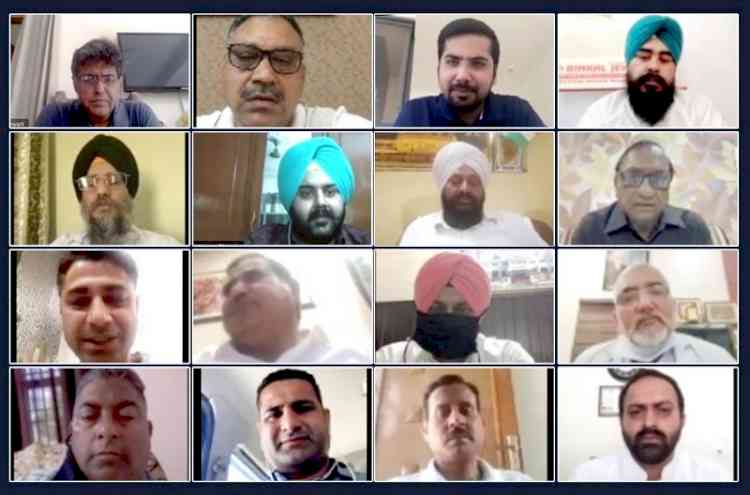 Rupnagar: MP from Sri Anandpur Sahib Manish Tewari has demanded the Central Government to release the outstanding GST of the state. MP Tewari is constantly monitoring the situation of the constituency and is constantly taking information from local officials and party workers.
Tewari held a meeting on Friday through video conferencing with party workers, including MLAs, market committee members, district council members, block committee members, sarpanches.
While discussing the circumstances, Tewari said that the Center should pay the Punjab government's outstanding GST as soon as possible, so that it can be used in the fight against Corona infection.
While reacting to the demand for compensation for the damage done to the wheat crop due to the natural calamity caused by individual block committee members, Tewari said that he will would raise this point in the tomorrow's Congress Coordination Committee headed by former Prime Minister Dr. Manmohan Singh. He further said, the issue of giving relief to the farmers will be put forward , so that the committee can ask the central government to give relief to the farmers.
Similarly, MLA Angad Singh raised the issue of gunny bags problem in Nawanshahr mandi, to which Tewari said that he would talk to the officials of the Food and Supply Department regarding this.
Sarpanch Harpal Singh, from the village of Pathalawa in Nawanshahar, the first victim of Corona in Punjab, appealed not to be afraid of the people about Corona, but they must follow the instructions of the government regarding this terrible disease.
Finally, Tewari reiterated his appeal to the people to take the curfew seriously, which has been imposed only for their safety.
Among others, Angad Singh MLA, Amarjit Sandoa MLA , Pawan Dewan Chairman Punjab Large Industrial Development Board, Rishab Jain Senior Depuy Mayor Mohali , Ashwani Sharma Secy Ppcc, Prem Singh President Block Congress Committee Anandpur Sahib , Sanjay Sawhny President Block Congress Committee Nangal, Mohan Singh Bathlana Member Zila Parishad, Jagdeep Jangra Congress City President Nawanshahr, Harpal Singh Pathlawa Sarpanch, Dr Bakhshish Singh Banga, Gurlal Saila Congress Leader, Gaurav Kumar Chairman Block Samiti Balachaur, Karnail Singh Chairman Market Committee Chamkaur Sahib, Aman Slatch, Amarinder Singh Chopra, Avtar Singh Tari were also present.