Celebrate Chhath Puja while following Covid-19 guidelines
DC, CP urges committees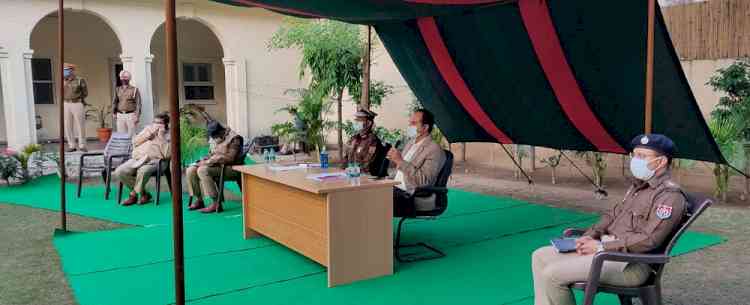 Ludhiana: With Chhath Puja is around the corner, Deputy Commissioner (DC) Ludhiana Varinder Kumar Sharma and Commissioner of Police Ludhiana Rakesh Agrawal on Tuesday, urged Chhath Puja Committees to observe the upcoming festival ceremonies in a concise manner following all the guidelines and taking all the necessary precautions amid the COVID-19.

Deputy Commissioner and Commissioner of Police were jointly holding a meeting with several Chhath Puja committees of the district to seek their suggestions and plan how to celebrate the festival while adhering to all the COVID-19 safety protocols.
Deputy Commissioner Varinder Kumar Sharma, while expressing satisfaction over the initiative taken by the Dussehra Committees last month to celebrate the festival in only 6 places instead of 70 places while adhering to all the COVID-19 safety protocols, also expected similar arrangements from the Chhath Puja Committees.

The Deputy Commissioner, while addressing the meeting said that the number of COVID-19 positive patients has been witnessing a surge from last some days. He said that in Delhi, too, the number of positive cases has doubled during the second wave, making it imperative for us to exercise caution.

He said that the Punjab Government wants to see people happy and festivals should be celebrated but organisers should take all the necessary steps to keep the celebrations brief while adhering to all the safety protocols. He said organisers will have to provide masks to gathering in case anyone didn't wear, have to maintain social distancing and should provide a sanitiser and hand wash facility at every entrance. He also directed organisers to deploy one volunteer for the gathering of 30 persons.  
Deputy Commissioner Varinder Kumar Sharma also directed the canal department to keep the water level in the canals adequate at the request of the Chhath Puja Committees. He congratulated the representatives of various committees on the occasion of Chhath Puja festival and assured that the police and district administration would be ready for any kind of help. 

Appealing to the Chhath Puja Committees, Commissioner of Police Rakesh Agrawal said that organising any kind of cultural programmes was not allowed. He also requested them to avoid organising langar, stalls etc while, if possible, only packaged food should be provided. He directed the organisers to ensure minimum participation of the people in the Chhath Puja function.

Meanwhile, the Chhath Puja Committees while assuring full support and cooperation to the district administration and police said that they will keep their functions short and follow all the guidelines laid by the government.