Celebrate 40 glorious years of classic movie 'Nadiya ke Paar' with Zee Bollywood
Zee Bollywood will have a special showcase of 'Nadiya ke Paar' on 1st January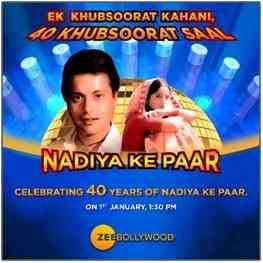 "Kaun disa mein leke chala re batohiya…", as we hum to this ever-melodious tune of the 80's in the futuristic 2022, Zee Bollywood is all set to celebrate the legendary 40 years of 'Nadiya ke Paar' with a special showcase of the movie. Barjatya banner has contributed to some great era-defining stories, produced by Tarachand Barjatya and directed by Govind Moonis, Nadiya ke Paar is one such story. This film broke the blockbuster records and instantly got the entire nation talking about it. So, let's immerse into 101% Shuddh nostalgia this new year as Zee Bollywood celebrates 40 glorious years of Nadiya ke Paar on 1st January at 1:30 pm.
With the industry's uber-talented faces such as Sachin Pilgaonkar, Sadhana Singh, Sheela David, Lila Mishra, Inder Thakur along with Ravindra Jain's music created tehelka at the box office. The story brought in a fresh wave of romance and family entertainment. Given the unblemished reflection of rural India, till this date, Nadiya ke Paar film remains the most loved and celebrated films of all times. 
Reminiscing old days, Sachin Pilgaonkar said, "It feels surreal to fathom the fact that Nadiya ke Paar will be celebrating its 40th anniversary. That film instantly became a career-defining moment for me; with its impeccable portrayal of rural families, raw and simple love shared by two young people and music that got the entire nation humming to it. It really captured the innocence and simplicity of the early 80's. For me, revisiting Nadiya ke Paar is like stepping into a time machine and getting teleported to those happy days instantly."
Commenting on the occasion, Suraj Barjatiya said, "Some films capture the era in a way that after decades also, just one rewatch and you're instantly teleported to that time. Nadiya ke Paar is one such film for me. A very simple yet moving story of two people in love with their families, it captures all the possible emotions in the spectrum of drama and radiates nostalgia every time you see it. The film is like a family legacy for me and celebrating 40 years of "Nadiya ke Paar "feels like an intimate celebration. Also, kudos to my seniors at Rajshri ,Director Govind Moonis ,Music director Ravindra Jainji ,Sachinji , Sadhana Singhji ,and the full team who poured their heart and soul into this film. And I cannot think of a better way to start this new year than this celebration of the 40 years to Nadiya ke Paar on Zee Bollywood."
Infused with love, sacrifice and innocence, Nadiya ke Paar is a most memorable family drama. When Gunja's sister is married off to Chandan's brother, the story of these two young ones begin. Discovering these newfound emotions for one another, Chandan and Gunja dream about spending their life together. However, this paradise gets knocked out by a tragedy with the unanticipated death of Gunja's sister. Sacrificing her own love, Gunja steps up to take care of her sister's family, but as they say, love always finds a way.