Cardiac arrest survivor gets CABG successfully
CABG after cardiac arrest carries high mortality rate up to 21pc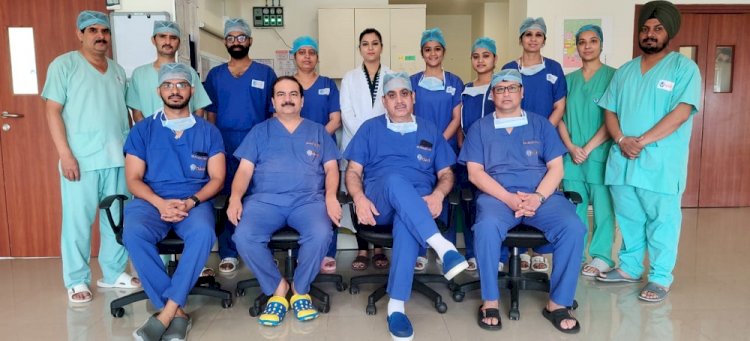 Chandigarh: A 74-year man with cardiac arrest underwent a successful coronary artery bypass graft (CABG) at Ojas Hospital, Panchkula recently.
 
Giving details, Dr Virendar Sarwal, director of cardiothoracic & vascular at Ojas said that the patient was referred in very sick condition with ongoing chest pain and gross ECG changes.He was a known case of coronary artery disease which was diagnosed in 2004. He was advised CABG at that time but decided to wait, he said.
 
Dr Sarwal further informed that the patient was immediately taken up for angiography which showed very tight blockage of the left main artery. After angiography his condition further deteriorated and required IABP and heavy drug support to maintain BP, he said.
 
Within short time the patient blood pressure dropped which was revived with high doses of blood pressure maintaining drugs. He was stabilized further for next 7-day on intra-aortic balloon pump support and medicines. When all the parameters stabilized, he was taken for high risk CABG as he had no other way to survive. His heart function had gone weak. The ischemia neurological assessment was done which was intact, informed Dr Sarwal.
 
It was a very high risk surgery and had a turbulent course as he developed arrhythmias during surgery. It was decided as off-pump surgery. But due to unstable condition it was electively decided to go on-pump and do an empty beating heart procedure, said Dr Sarwal.
 
Four grafts were done on him and after revascularization he was weaned-off comfortably from CPB. He was extubated on 3rd day. His all other parameters were under control except arrhythmias which were controlled with medication and close monitoring and DC shock.
 
Third post-op day onwards he stabilized nicely and then IABP was removed followed by extubation. Slowly the patient improved and was mobilised and discharged on 8th post-op day.
 
CABG after cardiac arrest carries high mortality rate up to 21%. In earlier days the 30-day mortality rate was up to  30% which has dropped to 6.3% now, informed Dr Sarwal.
 
Now a 5-yr survival for these patients is very good to the tune of 80.7% and survival freedom from fatal cardiac event is 80.1%. Average delay for cardiac arrest to CABG is 10 to 13 days. So these patients should be given very tight monitoring in a fully geared up centre and most of them do well even in such a critically ill situation, said Dr Sarwal adding the team work is key to success in such cases.