Captain Sanjay gives medicines, medical equipment worth Rs.83 lakh to Kangra Administration
Says similar medicines and equipment will also be given to Una district soon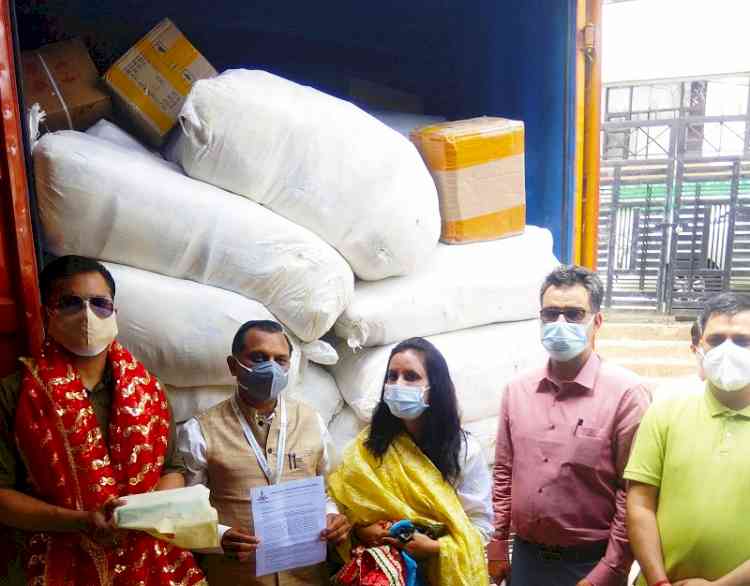 Dharamsala: Captain Sanjay Parashar, who  is also the owner of BBN Ship Company and a member of National Shipping Board and his wife Sonika Prashar , who is the owner of BRM Ship Company, today handed over 2925 PPE kits, 800 pulse oximeters, 50 thousand vitamin C pills, 25000 zinc tablets , 25 thousand ivermectin tablets and  2500 thousands of Doxycycline capsules worth around Rs 83 lakhs to the administration of Kangra district as help to combat Corona pandemic.
Captain Sanjay Parashar who is also the  volunteer of Rashtriya Swayam Sevak Sangh and resident of Dehra sub-division of Kangra district Presented medicines through ADM Rohit Thakur on Saturday at Dharamsala.
On this occasion, Captain Sanjay Parashar said that more help will be continued on demand from the administration. He informed that medicines worth Rs  one crore and necessary medical equipment will also be presented soon to  Una district administration and  for this, orders have been sent to various pharmaceutical companies.  Oxygen regulator and nebulizer will also be presented to  Una's Palakwah Covid Care Center.
Capt Sanjay Parashar informed that distribution of medicines including oximeters has also been ensured for Covid infected in Jaswan Pragpur, Dehra and Jwalaji area of Kangra District.