Cake mixing ceremony celebrations at PCTE Group of Institutes
The celebration witnessed the joy and excitement amongst the students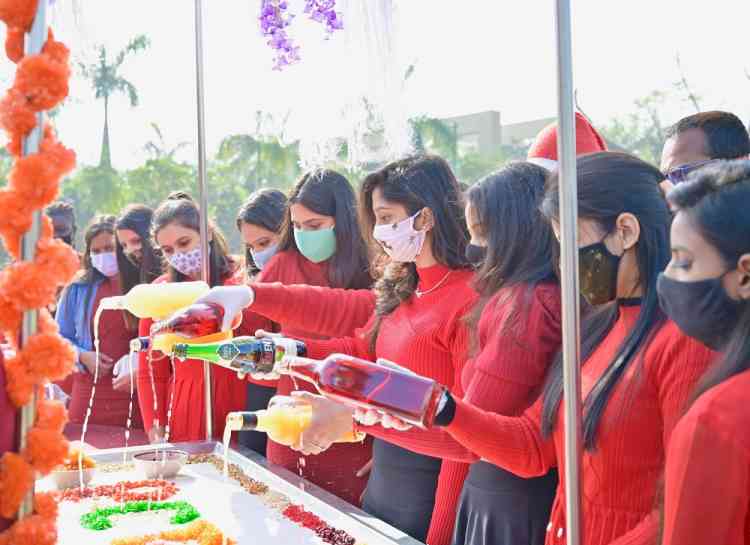 PCTE students mixings all the ingredients.
Ludhiana: Cake Mixing ceremony is part of an age-old Christmas tradition, PCTE- Institute of Hotel Management and Catering Technology celebrated its non-alcoholic cake mixing ceremony in a healthy way without compromising the richness and taste of the Christmas cakes. The day witnessed students dressed vibrantly, fully excited and exuberant.
Cake mixing ritual is done all over the world and was first started in the 17th century in Europe. During this time lots of fruits and nuts were harvested and prepared for making traditional plum cakes.
The celebration witnessed the joy and excitement amongst the students, where the chefs of PCTE IHM added morrabas of Indian Gooseberry (Amla), Carrot, BeetRoot with dry fruits and nuts which have immense health benefits. The other ingredients included raisins, cherries, plums and nuts like cashews, walnuts, melon seeds, sesame seeds and almonds were mixed with fresh orange reduction and were stored in a container until the festive season to develop the perfect aroma and taste.
Mr. Anirban Gupta, Dean, PCTE-IHM said that the mixture will be used for making Christmas Cakes and other edible treats for all our students, faculty members, and guests. He further praised the efforts of the students who participated with full zeal and enthusiasm.
Dr. K.N.S Kang Director General of the college said, "The Festive Season has finally begun and the students and faculty are in full swing." He further added "It is important for the students to be familiar with various religions and cultures so that they love and respect all the communities and cultures".