Cadaveric Oath ceremony for first year MBBS students
The Department of Anatomy of CMC, Ludhiana organized the ceremony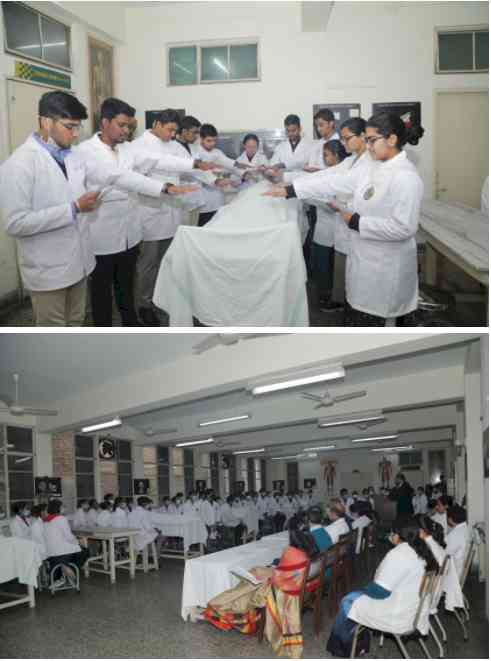 Ludhiana: The Department of Anatomy of Christian Medical College, Ludhiana organized the Cadaveric Oath ceremony for the first year MBBS students. The new curriculum of MBBS stresses the importance of the right attitude, ethics and communication skills in a medical student. The cadaveric oath was first started in 2016 and forms the foundation of the learning process for them because cadaver is not only their first teacher but also their first patient.   
The occasion was graced by the Director Dr. William Bhatti, Principal Dr. Jeyaraj Pandian, and Vice Principals Dr. Ashish Varghese, Dr. Monica, Dr. Abhilasha and      Dr. Sherin, and Professor & Head of Medical Education, Dr. Dinesh Badyal &        
Dr. Pamela Jeyaraj. The ceremony began with a word of prayer by Rev. Alex Peter after which   Dr. Aprajita Sikka, Head of Anatomy Department welcomed everyone and explained the importance of cadaveric oath saying that cadavers were once living souls who made the supreme sacrifice of donating their body for medical education and hence should be treated with dignity and respect. 
The Director Dr. William Bhatti administered the oath to the students. While addressing them, he reminisced his days as a student and stressed the importance of respecting the teachers and cadaver. He also added that compassion & care are essential part of medical profession. 
The Principal Dr. Jeyaraj Pandian highlighted that Anatomy is the foundation for their medical career. It is very important to learn anatomy which plays a vital role in future learning and that they should use every opportunity to learn. The ceremony concluded with vote of thanks by Dr. Neeru Goyal.