Cabinet Ministers Balbir Singh Sidhu and Sukhjinder Singh Randhawa pay floral tributes to Shaheed Karnail Singh Issru
Charanjit Kaur, wife of Shaheed Karnail Singh Issru also honoured on the occasion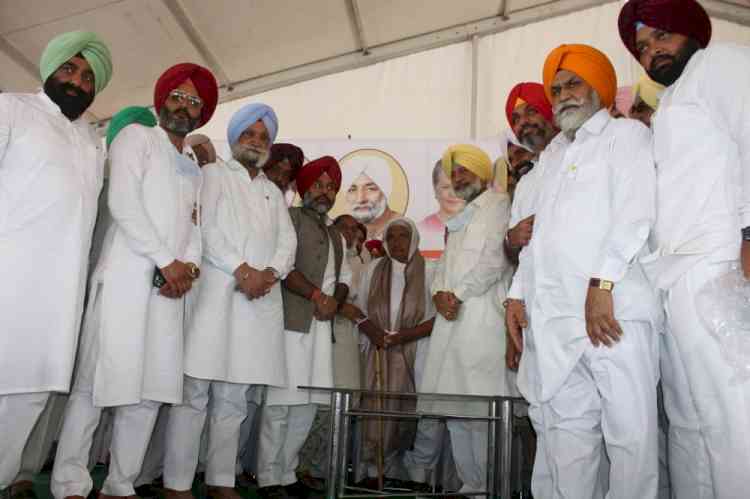 Issru (Ludhiana): Punjab Health and Family Welfare Minister Balbir Singh Sidhu and Cooperation Minister Sukhjinder Singh 
Randhawa on Sunday paid floral tributes to Shaheed Karnail Singh Issru during a state-level function held at Issru village of the district. 
They were also accompanied by Fatehgarh Sahib MP Dr Amar Singh, Former Ministers Tej Parkash Singh Kotli and Malkeet Singh Dakha, Khanna MLA Mr Gurkirat Singh Kotli, Payal MLA Mr Lakhbir Singh Lakha, MLAs Kuljeet Singh Nagra, Gurpreet Singh GP, Inderbir Singh Bolaria and Sukhpal Singh Bhullar, Deputy Commissioner Varinder Kumar Sharma, besides several others.
They garlanded the statue of Shaheed Karnail Singh Issru installed in the village. Charanjit Kaur, wife of Shaheed Karnail Singh Issru was also honoured on the occasion.
Addressing the gathering on the martyrdom day of great revolutionary Shaheed Karnail Singh Issru, who laid down his life during the liberation of Goa from Portuguese regime, here at his native village, the Ministers said that we Punjabis inherited the spirit of sacrifice from the great Sikh Gurus especially Sri Guru Arjun Dev ji and Sri Guru Teg Bahadur Ji who made supreme sacrifice against the tyranny unleashed by the Mughals, for the sake of humanity. 
They said that this legacy of self-sacrifice perpetuated from one generation to other and was one of the major force behind Punjab's great contribution in the national freedom struggle. 
They further said that it was on record that Punjabis despite having two per cent of country's total population had made huge sacrifices in terms of life imprisonment, capital punishment and even exile in captivity (Kalepaani).
They said that the enormous contribution of Shaheed Bhagat Singh, Udham Singh, Kartar Singh Sarabha, Lala Lajpat Rai, Sohan Singh Bhakna and several others would continue to inspire our younger generations besides imbibing the spirit of patriotism amongst them.
They said that there would be no shortage of funds for the ancestral village of Shaheed Karnail Singh Issru, and told that whenever MLA Gurkirat Singh Kotli or village Panchayat wants to carry out some development project, the government would allocate funds for the development of Issru village.
Meanwhile, Cabinet Minister Balbir Singh Sidhu also inaugurated developmental works worth around Rs 5 crore in the various parts of Khanna constituency and also laid foundation stone of a 100 MTD Vanaspati Based upon Interesterification and partial Hydrogenation plant worth Rs 23 crore. 
He also announced a Community Health Centre in Issru village. 
The Cabinet Minister Sukhjinder Singh Randhawa also announced Rs 5 lakh from his own discretionary quota and a government job for any member of martyr's family. 
Prominent among those present on the occasion included Chairman Market Committee Yadwinder Singh Jandiali, Additional Deputy Commissioner Sakkatar Singh Bal and others.