Cabinet Minister Bharat Bhushan Ashu unfurls tricolour at Ludhiana 
Urges citizens to make Punjab number one state in country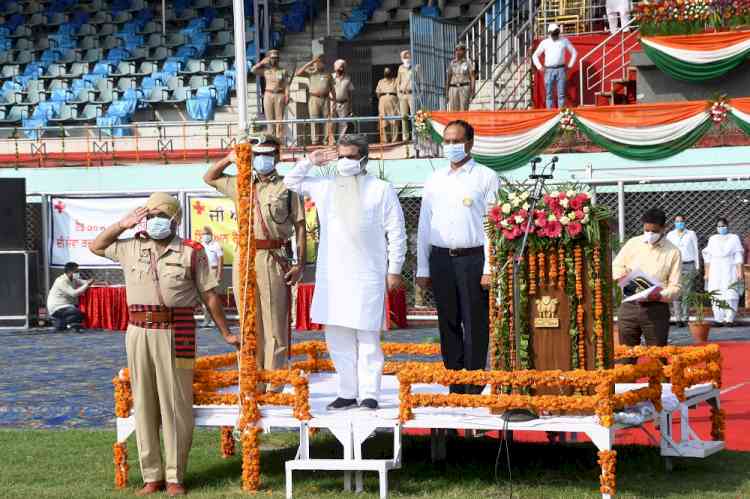 Ludhiana: Punjab Food, Civil Supplies & Consumer Affairs Minister Mr Bharat Bhushan Ashu today unfurled the national flag during the district-level function organised at Guru Nanak Stadium, here. He was the chief guest on the occasion and was also accompanied by his wife Mrs Mamta Ashu, daughter Miss Surabhi Ashu, besides other family members.

In his address to the citizens, Mr Ashu called upon all Punjabis to make Punjab the number one state in every aspect. The cabinet minister also paid tributes to martyrs and freedom fighters who sacrificed their lives during freedom struggle. While addressing residents, Mr Bharat Bhushan Ashu said that Captain Amarinder Singh led Punjab Government has been working tirelessly for the betterment of state residents. He added that the timely imposition of lockdown/curfew has also helped to provide better healthcare facilities during Covid-19 outbreak.

In his speech, Mr Ashu He also thanked doctors, medical staff, administrative officials and social organisations for their assistance as Corona Warriors. He also acknowledged the great work done by farmers, who had produced the food that fed the nation during the lockdown period and officials of Food, Civil Supplies & Consumer Affairs Punjab, for ensuring proper supply of ration to the needy during lockdown.

He also appealed to the people to make the mission Fateh launched by the Chief Minister Capt. Amarinder Singh a success to defeat the corona virus.

He said that the conditions that the whole world is going through a crisis due to coronavirus and it can be changed only with the cooperation of the people. He also appealed to the people to wear masks, follow the rules of social distance, and maintain proper hand hygiene. He also advised to the people to go to the government hospital and get tested if they have any suspicion about the virus.

He said that under the leadership of Chief Minister Capt. Amarinder Singh, the government has fulfilled its promise to provide smartphones to all the students of Class XII so that the poor and needy families Children can also take online classes. He said that these smart phones would certainly help the students who had marvellously adapted to the online teaching methodology, as well as the teachers who were working day and night to create online content to ensure that the studies of their students did not suffer.

He said that even in Ludhiana, several projects worth thousands of crores are going on. Some of the important projects of Ludhiana include construction of Indoor Swimming Pool in Rakh Bagh area, developing several city road as "smart roads", construction of several leisure valleys, installation of solar net metering system on government schools and colleges, construction of ROB and RUB on Pakhowal Road, Sidhwan Canal Waterfront project, besides several others.

On this occasion, Deputy Commissioner Mr Varinder Kumar Sharma and Commissioner of Police Mr Rakesh Agrawal honoured the Chief Guest with saplings of "Giloy" and "Tulsi". These saplings were also distributed to all the other persons.
It is a matter of great pride that 15 Ludhiana residents won gold certificates in the Mission Fateh contest. These persons include ADC Mrs Neeru Katyal Gupta, ACP Mr Jang Bahadur, MC Zonal Commissioner Mr Neeraj Jain, Parveen, Swaranjit Kaur, Pawan, Usha Rani, Smriti Bhargava, Manpreet Kaur, Reena Rani, Raj Kumar, Balwinder Kaur, Jagtar Singh, Jatinder Vig and Jagjit Singh. In view of Covid 19 pandemic and the government directions, no cultural function or PT show was organised on the occasion. The freedom fighters and their family members were honoured by the District Administration by visiting their respective houses. Even the gold certificates of Mission Fateh contest winners would be sent to their respective homes by District Administration.

National Anthem was performed by the students of Ishmeet Singh Music Institute. The live broadcast of this function was transmitted on the official Facebook page, facebook.com/dproludhianapage/, of District Public Relations Officer Ludhiana.
Prominent among those present on the occasion included MLAs Mr Surinder Dawar and Mr Kuldeep Singh Vaid, District & Sessions Judge Mr Gurbir Singh, Mayor Mr Balkar Singh Sandhu, President District Congress Committee (Urban) Mr. Ashwani Sharma, MC Senior Deputy Mayor Mr Sham Sunder Malhotra, Zila Parishad Chairman Mr Yadwinder Singh Jandiali, Ludhiana Improvement Trust Chairman Mr Raman Balasubramaniam, Punjab Youth Development Board Chairman Mr Sukhwinder Singh Bindra, PMIDB Chairman Mr Amarjit Singh Tikka, Backfinco Vice Chairman Mohd Gulab, PLIDB Senior Vice Chairman Mr Ramesh Joshi, Senior Congress leader Mr Major Singh Bhaini, Councillor Mr Sunny Bhalla, MC Commissioner Mr Pardeep Kumar Sabharwal, CA GLADA Mr Parminder Singh Gill, ADCs Mr Sandeep Kumar, Mr Amarjit Bains and Mrs Neeru Katyal Gupta, Youth Congress leader Mr Rajiv Raja, besides several others.