Cabinet Minister ask for enquiry over dilapidated condition of Rai Sikh Bhawan
Cabinet Minister Punjab Fauja Singh Sarari today visited the Rai Sikh Bhawan which is situated in the heart of the city area.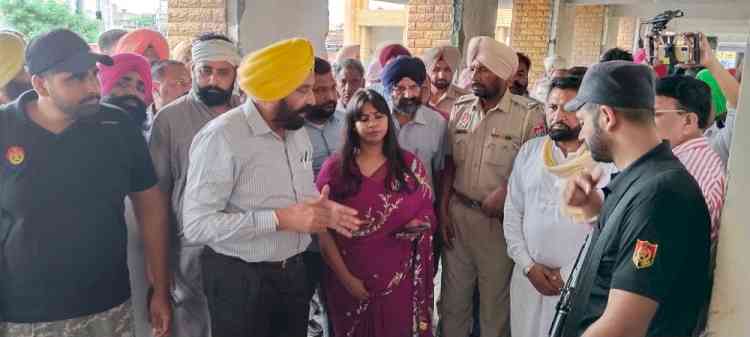 Ferozepur, August 5, 2022: Cabinet Minister Punjab Fauja Singh Sarari today visited the Rai Sikh Bhawan which is situated in the heart of the city area. Sarari, who was accompanied by the senior officials from the district administration including DC Amrit Singh, ADC Sagar Setia, SDM Ranjit Singh and others, inspected the entire building and expressed his concern over the dilapidated condition of entire building. Later, while interacting with the media persons, Sarari said that it is really sad to see the poor condition of the Rai Sikh Bhawan. "This building was constructed during the SAD regime in 2010 and the maintenance of this building was also their responsibility. I am really feeling sad to see the condition of the building. I have instructed a probe that why the building is in such a bad shape", said Sarari. 
Deputy Commissioner Amrit Singh said that appropriate action shall be taken against erring officials or others after the investigation.
On this occasion, MLA Ferozepur Urban Ranbir Singh Bhullar, MLA Ferozepur Rural Rajnish Dahiya were also present on this occasion.
CONSTRUCTED AT THE COST OF CRORES, THE BUILDING OF RAI SIKH BHAWAN CRUMBLES DUE TO LACK OF UPKEEP AND MAINTENANCE 
Constructed at a cost of around Rs 2 crores in 2010, the Rai Sikh Bhawan in this border district presents a picture of absolute apathy and neglect. Ironically, the building which was constructed especially for the welfare of the Rai Sikhs community started crumbling down even before it was put to use for the designated purpose. Neither this building was purposefully utilised during the last decade nor it was handed over to the "Biradari". Over and above, in absence of any mechanism for its maintenance, upkeep and security, this building has become an "abode" for drug addicts and bootleggers. Most of the door and windows have been broken and perhaps stolen from this place. The tiles from the outside and even façade have been dislocated, and the grills besides the entry gate of the building are also missing. 
In 2017, the district administration had established "Sanjhi Rasoi" here. The move had annoyed the people from the Rai Sikh Biradari following which the project was shifted to some other place. 
It is pertinent to mention that Rai Sikh community has considerable presence in this border belt, and enjoy large vote-bank along this entire stretch.