Buon Appetito with flavours of Italy at Fairfield by Marriott Amritsar
Kava Grill & Lounge to serve expansive array of culinary delights packed with authentic taste of Italian cuisine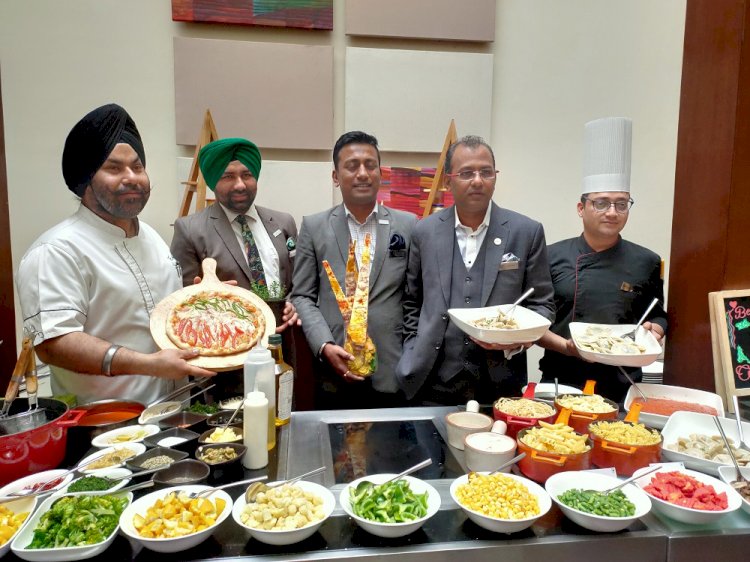 Amritsar: Every individual has his/her own penchant for food and to extend that authentic experience, the flavours of Italy with their rich flavours are all set to have a rendezvous with the  connoisseurs of food in Amritsar. Celebrating these rich relishes Fairfield by Marriott Amritsar is all set to offer scrumptious and delicious food fest with its Italian food festival. The ten days mesmerising Italian food fest promises to offer handpicked authentic delights that promises the flavours of Italian origin with an exquisite variety of soulful flavours that will make your taste buds dive in the sea of delicacies from 21st Feb to 29th Feb,  7pm to 11pm at Kava Grill & Lounge at Fairfield by Marriott Amritsar.
Amritsar, as we all know has been eminent for its amazing variety of food and hence it is of great attraction for food lovers. The people love to be experimental with their culinary fascinations and to give their taste buds an ever exclusive treat; Fairfield by Marriott Amritsar brings this authentic 10 days of Italian food festival. The typical Punjabi food with its rich, flavoured and buttery tangs have always been savoured by Amritsar but this time Fairfield by Marriott Amritsar will take its guests on an Italian journey through its variation of distinct delicacies along with the traditional Italian treatment that comes with it.
Italian cuisine is generally characterized by its simplicity, with many dishes having only two to four main ingredients with the techniques, skills and the magic hand. Vegetables play an important role in Italian cuisine and are famous for their abundance of taste and rich delicacies in the Italian cuisine. This Italian food fest will be a celebration of all foodies with the hint of indulgence for the sinful, vibrant, and sumptuous culinary culture. The fest will offer a variety of Italian Cuisines to tickle the taste buds of food lovers..
Major highlights of Italian Festival are flavorsome Pizzas and tasteful pasta and the regular buffet to fall in love all over again.
Talking about the festival, Chef Maninder Singh Sabharwal who has fantastic hand in Italian cuisines said, "This Italian food fest has all kinds of Italian origin delicacies which are the region's specialties. All the dishes shall be   precisely prepared and presented with the Italian touch. We invite food lovers to get a true taste of Italian cuisine which shall be prepared in an absolutely authentic manner."
While interacting Anukam Tiwary, Manager, Fairfield by Marriott Amritsar said, "The flavours, taste, culture and food varies from country to country and so is Europe. Italian cuisine has a unique aroma and flavour to it and this is what we wanted to bring to the people of Amritsar since Italian food is the favourite food amongst the youngsters and it surely will be loved by the people. We have experimented a lot with our culinary styles to bring forth the quintessential Italian delightful of soulful flavours."/ (Feb 20)