BRICS CCI appoints Srishti Jupudi as its global brand ambassador for year 2021-2022
She is Hyderabadi girl and former World Badminton Junior Championship player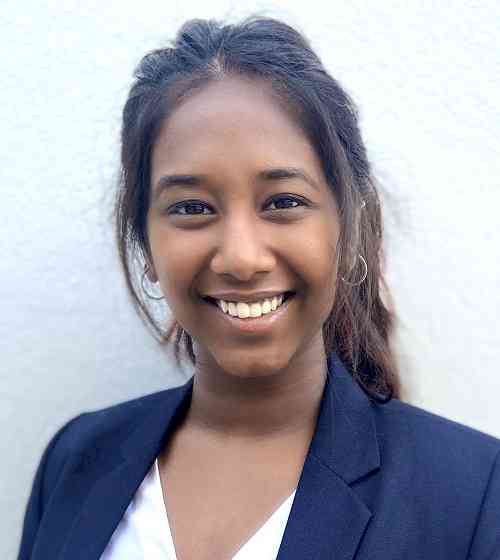 Srishti Jupudi.
New Delhi: The BRICS Chamber of Commerce & Industry, an international organization that promotes trade and commerce, appoints a Hyderabadi girl, former World Badminton Junior Championship player, Ms. Srishti Jupudi as its Global Brand Ambassador for 2021-22 starting from tomorrow.
 
BRICS is the acronym coined to associate five major emerging economies: Brazil, Russia, India, China, and South Africa. The BRICS members are known for their significant influence on regional affairs. Since 2009, the governments of the BRICS states have met annually at formal summits.
 
BRICS is an important Group bringing together the major emerging economies from the world, comprising 42% of the world population, having 23% of the world GDP and over 16% share in the world trade. BRICS countries have been the main engines of global economic growth over the years.
 
The BRICS Chamber of Commerce and Industry is a parent organization which promotes commerce and industry in the BRICS nations. The Chamber, founded in 2012 with the efforts of eminent professionals and entrepreneur, is a not-for-profit and non-governmental organization. BRICS CCI is a registered body empanelled with NITI Aayog (highest policy-making body of Govt of India) and recognized by United Nations.
 
Ms. Srishti shall be one of the prominent faces of BRICS CCI as India assumed the rotating Chairship of BRICS on January 1, 2021 it is stated in the press note issued today.  
 
She will be key to spearhead its vision across BRICS nations to create an enabling support system especially for the MSME segment of businesses, young entrepreneurs, women entrepreneurs, and Start-Ups from across all geographies.
 
Srishti Jupudi has carried the flag of India at the world level platform. She represented India at World Badminton Junior Championship, Asian Badminton (Jr.) Championships, Grand Prixes and participated in many national and international tournaments.
 
She was trained at India's best badminton academy, Gopichand Badminton Academy at Hyderabad, under the aegis of Padma Bhushan and IOA Lifetime Achievement awardee Mr. Pullela Gopichand, who produced world greats like P V Sindhu, Kidambi Srikanth, Saina Nehwal and others.
 
Srishti is also the accomplisher of Malcolm Gladwell's 10000-hour Rule. Srishti quit professional sports career when she was India's top ranker in her category, to pursue a leadership and social path. 
 
"We aim to establish dialogue and create avenues that will help us deliver on the promise of a future that will let our generations to come flourish more than us. Youth, innovation, entrepreneurship is the promising future and Srishti shall be the motivational face for the young leaders and highly potential generation", said Mr. Sameep Shastri, Vice Chairman, BRICS CCI. 
 
Ms. Srishti in her acceptance speech, while thanking the leadership of BRICS CCI for reposing faith in her, she said, "In my capacity as the Ambassador, I shall represent BRICS to promote member nation's projects, programs, initiatives through various forums and media. I help the organization's leadership to facilitate the stakeholders to forge relations and collaborations, to promote trade and commerce, across member nations and beyond".
 
Ms. Srishti said, "I hope to bring my decade long holistic learning from my professional career that led me to represent India at the world level, to work with executive teams of BRICS nations, to inspire youth, young leaders and encourage start-ups, industries across the member nations, to develop innovation, entrepreneurship, leadership and set the new world order".
 
BRICS CCI was founded in 2012 with the efforts of eminent professionals, entrepreneurs, industrialists, bureaucrats, from BRICS and beyond having its headquarters in New Delhi, India and country offices in Brazil, Russia, China and South Africa. In nearly a decade old journey of the chamber it has promoted Business Houses for trade and commerce from all BRICS nations and neighboring countries.. Our efforts have been recognized by several Union ministers of Government of India and Governments of BRICS nations.