Brain storming session on "open waste burning: scenarios, impacts and strategic planning"
Prakriti Groupin collaboration with Nepal Energy and Environment Development Services (NEEDS) organized a Virtual Brain Storming Session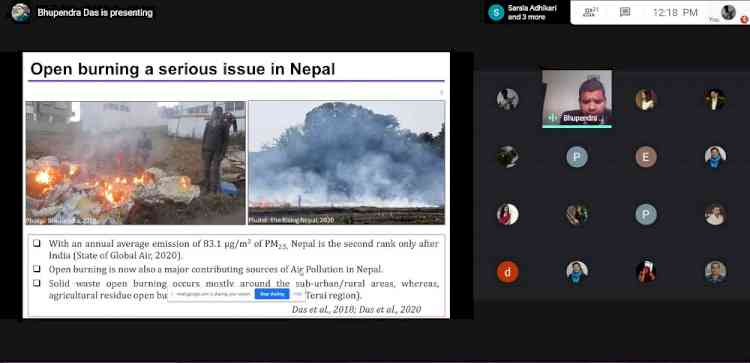 A virtual Brain storming session on "open waste burning: scenarios, impacts and strategic planning" was conducted by PrakritiEcotech under its parent organization, Prakriti Group, in collaboration with Nepal Energy and Environment Development Services (NEEDS). The Special Guest of the session was Prof. Dr. Rejina M. Byanju, HOD Central Department of Environmental Sciences, Tribhuvan University. The Guest of Honor for the session was Dr. Ajay Nagpure, Head of Air Pollution, Sustainable Cities program at WRI India. The discussion panel included Mr. Bhupendra Das, Researcher at CDES-TU and IASS, Potsdam, Germany, and Chairperson of NEEDS; Dr. Manish Soni, Researcher, Department of Remote Sensing, Birla Institute of Technology, Mesra, Jaipur campus; Mr. Pavel A. Munshi, Research Assistant and Grad Student of Theoretical Atmospheric Sciences, North Central University, Taiwan; Ms. Twinkle Dev, Project Assistant, Environment and Waste Management Division, The Energy and Resource Institute (TERI); and Mr. ShubhanshTiwari, Founder of Prakriti Group, Research Associate, Amity  University Haryana, Scientific Officer at Innovative Science Research Society. The moderator of the session was Mr. Prashant Dahiya, Communication Specialist.

The session started with Dr. Ajay Nagpure, stating the reason of waste burning to be capital constraints. The people practicing open waste burning require very less money to do so, hence opt it as the first choice to eliminate waste. He emphasized on strengthening of proper waste management practices, as it results in better hygiene, causes lesser diseases. For this as he said, we will need good strategy, a lot more study and research into the subject, and in the process we will develop a good society.

Bhupendra Das (Researcher at IASS, Potsdam, Germany and Tribhuvan University, Nepal) throws light on the issue through the study done by him and his teamas, air pollution due to open burning is now becoming a serious issue in Nepal. Based on his own study, Das added the trend of open waste burning is increasing upwards for Nepal. Das further added Nepal contributes around 0.5-2% of total emissions to the worldwide in the sector of crop residue open burning. Open burning is a serious issue for Nepal and India, therefore, joint planning and actions are required from both countries, Das added. Das is also a chairperson at NEEDS, where he actively works on air pollution, energy and climate change. 

Likewise, Prof. Dr.Rejina M. Byanju, who is a professor and head of the department at 'Central Department of Environmental Science- Tribhuvan University made summary remarks on 'open burning and policy implications in Nepal'. Prof Byanjualso highlighted that open burning is an emerging issue in Nepal, and mitigation options are foremost steps at present.

Dr. Soni talked about Terra and Aqua Satellites combined Multi Angle Implementation of Atmospheric consumption (MAIAC) producing data daily at 1 kilometer pixel resolution. It detects active fire and thermal anomalies. This is useful for studying the distribution of fire and to locate the source of air pollution from smoke. According to the data, between 1 November and 4 November, the fire count has increased adversely and it goes up day by day. He stated that the situation last year was slightly better at being moderate, to high, extremely high during October 2019 through November 2019, to December 2019. When compared to this year situation has worsened.

Further, Ms. Twinkle Dev added since people are actively practicing waste burning in the open, they need to follow the principle of Reduce, Reuse and Recycle. She said, globally around sixty one thousand premature deaths are caused due to air pollution yearly. She focused on the fact that every year in Punjab, burning of crop residue is about 7.8 tonnes and this stubble burning is a major cause to contribute in the pollution.

Mr. Alam spoke about biomass burning on the Asian level. He highlighted that biomass burning causes sufficient amount of air pollution and consequently results in global warming and temperature rise. He talked about rural crowd not having choice other than biomass burning for clearing agricultural land for new crops. When such resultant aerosols mix in the atmosphere along with burnt biomass, industrial emissions and SO2,it forms Aerosol Haze.

Mr. ShubhanshTiwari added in discussion that about his study during summer in this year and highlighted that the stubble burning in Haryana increases mainly due to lock down as parts of Haryana where burning incident hadn't been reported earlier are also reporting them since farmers was not able to transport crop residue from their field for other uses. He also added that the farmer friendly policies are highly required to reduce the crop burning incident.

At last, the panel discussed over rise in cases of cancer in some regions of North India due to chimney pollutants such as arsenic, etc. Less dispersion of pollutants and low rate of scattering is the real reason of perception of increased pollution and deteriorating air quality in winters, the panel confided.

The session was concluded with firm thoughts of forming common policies with neighbours and working together to help and succeed in controlling pollution, and forming of better strategies to control pollution on implementational level. 
The session ended with a vote of thanks by Mr. Prashant Dahiya.