Boost for MSMEs: GAME's inspiring Growtherator Ludhiana returns with its second cohort
Applications are now open for growth oriented entrepreneurs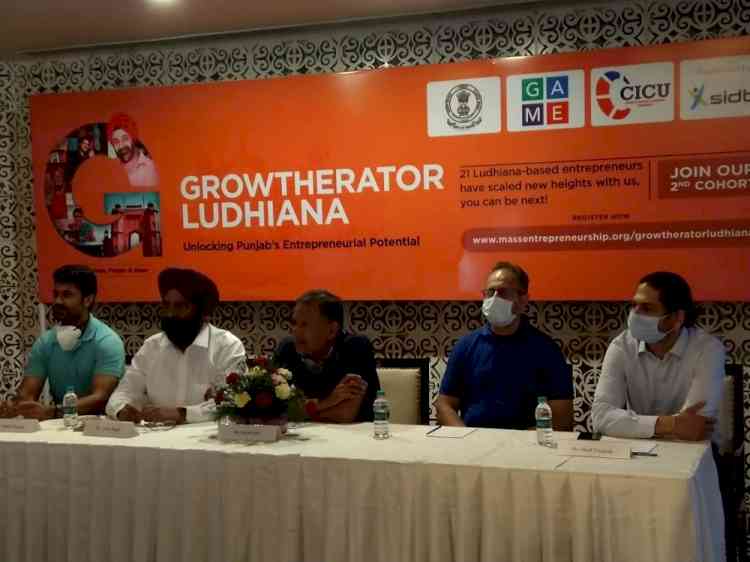 Ludhiana: The Global Alliance for Mass Entrepreneurship (GAME) in partnership with the Government of Punjab and Chamber of Industrial & Commercial Undertakings (CICU) and supported by Small Industries Development Bank of India (SIDBI) have opened up the application process for the second cohort of Growtherator Ludhiana. The aim of the program is to advance Punjab's transformation (Saada Karobaar Punjab di shaan) and doing this by helping MSMEs scale their business efficiently. The Growtherator is a very focused and curated small business accelerator program (6-month cohorts) to support 30 promising growth enterprises in improving their productivity, efficiency and profitability significantly.
 
"During such tough times under the pandemic induced disruptions, the second cohort of Growtherator Ludhiana will act as a catalyst for change and equip MSMEs to overcome challenges. We have been a witness to the groundbreaking work carried out by Global Alliance for Mass Entrepreneurship (GAME) during the first cohort of the program and are confident about its success this time as well. As a Government that is committed to working towards economic development in the state of Punjab, we will extend all possible support to GAME to transform Punjab into an entrepreneurial hub," said Vini Mahajan, Chief Secretary,  Government of Punjab.
 
Speaking about the launch of the second cohort, Sachit Jain,  Vice Chairman and MD, Vardhman Special Steels and Chair, GAME Punjab Taskforce said, "As the second wave of covid-19 is behind us, it is important to set our sights on the recovery of  MSMEs Punjab currently represents close to 3 lakh MSMEs and it is imperative that we nurture, encourage and support local entrepreneurship with the larger aim of driving growth. Our first cohort in Ludhiana and its success is the testament to the unbridled potential that MSMEs carry. The focus now is to ensure we tap into more businesses and propel them towards growth."
 
"Ludhiana is teeming with MSMEs that have potential for exponential growth, but little access to opportunities. The first cohort of Growtherator Ludhiana addressed the gaps quickly, and equipped MSMEs to chart a new path for seamless growth. As we set out to work with MSMEs in the second cohort, the aim remains to create ample opportunities while helping them overcome the challenges posed by Covid induced slowdown," said Upkar Singh, President, Chamber of Industrial & Commercial Undertakings.
 
The program invites applications from profitable businesses with annual revenue of INR 2 crore to INR 10 crore in service industry, and INR 10 crore to INR 50 crore in manufacturing trade or export businesses with at least 3 years of annual filings. Businesses with annual revenue of range of INR 2 crore to INR 50 crore, that are led by women (majority equity owned by women) are also encouraged to apply.