Bollywood's ace Film-Maker Mahesh Bhatt visits LPU
Performed for famous play 'The Last Salute' at LPU Stage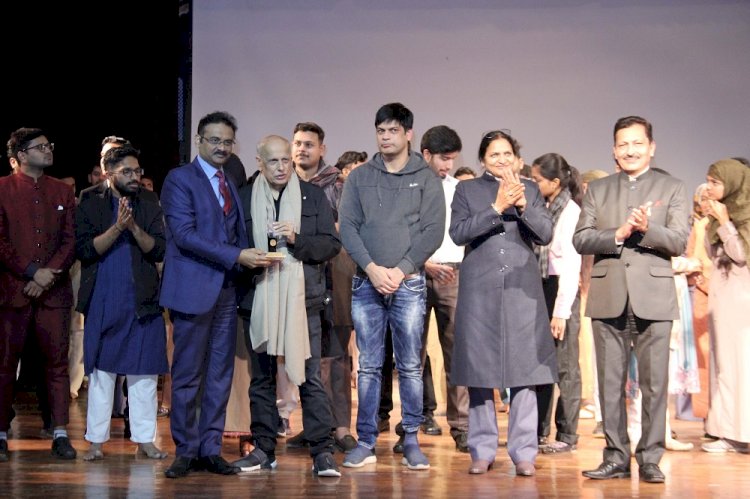 LPU Chancellor Mr Ashok Mittal, Pro Chancellor Ms Rashmi Mittal felicitating film maker Mahesh Bhatt at LPU campus.
Jalandhar: Bollywood's ace Film-Maker Mahesh Bhatt visited Lovely Professional University, today, and presented Hindi play 'The Last Salute' at LPU's multi-dimensional stage of Shanti Devi Mittal Auditorium. Many a times performed at country's mammoth theatre stages in the cities like Mumbai, New Delhi, the Play is based on Iraqi Journalist Muntadhar-Al-Zaid's  book 'The Last Salute to President Bush'. Directed by well-versed theatre director Arvind Gaur, the play is starred by Mahesh Bhatt in special appearance and Imran Zahid in lead protagonist's role. The play proved as a wonderful experience with students and staff members. On this occasion, renowned Director, Producer, Screenwriter in the film-industry, Mr Bhatt also interacted with LPU's Film Production and Performing Arts' students to share with them important tips of film-making.

Allegorically, the play explored the repercussions of repressions in context to American invasion of Iraq.  The play opened with the character in special appearance, Mahesh Bhatt, reading a letter which he had written in 2002 refusing prayer-breakfast invitation from America. The Music of the play was by Sangeeta Gaur and about 150 artistes from Asmita Theatre New Delhi participated in this play, which is being staged continuously for the last 12 years.
While interacting, Mr Bhatt shared that the problems cannot be solved through weapons in the style of super powers. These can be solved in accordance to the sayings of Godly persons who always believed in 'no one is strange or enemy' and non-violence. He also upheld that in this age of great connectivity, persons usually live disconnected in thoughts. All should work jointly to seek befitting solutions to the problems existing globe over.  He also informed that youth of today needs no advices. They are awakened and they should come forward with the best possible solutions in solving the human problems.
Prior to this, welcoming the top Bollywood personality at the campus, LPU Chancellor Mr Ashok Mittal said: "It is a matter of pride for all at LPU that great Bollywood personality Mahesh Bhatt Jee and other top actors of the theatre world preferred LPU for staging of much applauded play. It will indeed make students think on big and humane lines." One of the Journalism students at LPU, Tannu shared that students like her have learnt about the staging art which can be beneficial in course work also.
One of the defining political acts, the play explored the facts of the gulf crisis and then US intervention which had been questioned, time and again, by the civilized world. The play attracted thousands of young audience comprising students and staff members at LPU. Inspiring all, the play performed by the theme-related actors readied them much interested in global issues as depicted in the play. It well explored the emotions, talks about world peace and political orders of the day affecting the common people. The play indeed proved as a wonderful experience with national & international students and staff members of diverse streams.
Historically, the originality of the play was upheld, in which the world watched (in 2008) that Iraqi journalist al-Zaidi hurled a shoe at the then US President. Two years later, his action found resonance in the play produced by Mahesh Bhatt. Thus, 'The Last Salute' is based on events leading up to al-Zaidi's actions, and the prosecution & actions that followed. To bring this play to life, the script is based loosely on al-Zaidi's book. A crucial part of the play deals with the shoe throwing incident followed by the arrest, torture and humiliation faced by the main character. The play also focuses on other aspects like stories from Iraq war coverage, kidnapping by militants, court cases, and life transformation. (January 22, 2020)