Ever increasing criminalization in India's politics big crisis, says Shanta Kumar
He is a senior leader of BJP and former CM of Himachal Pradesh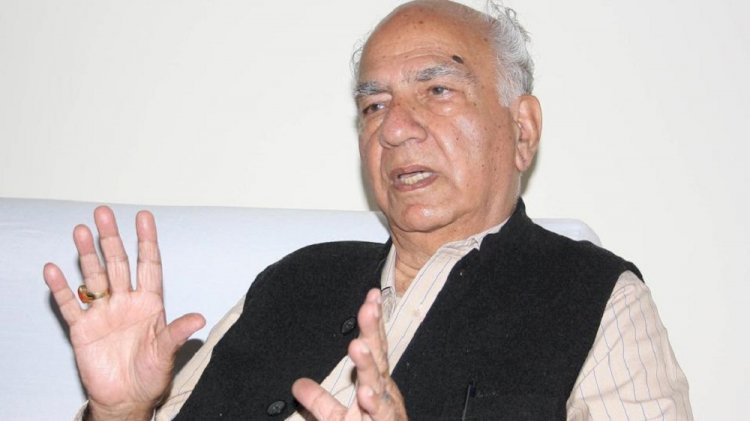 Senior BJP leader Shanta Kumar,
Dharamshala: Senior leader of the Bharatiya Janata Party and former Chief Minister Shanta Kumar has said, "The ever increasing criminalization in India's politics is a big crisis. In this direction, the Supreme Court of India has given a historic and commendable direction." He said that now at the time of elections, the parties will have to give details of all criminal cases on the candidates within a certain period. The most important order has been given by the Supreme Court, is to give explanation why the parties gave tickets to tainted candidates. Not only this, the parties will also have to explain why they did not give tickets to any untainted person. "Many congratulations to the court for this important order," added Shanta.
He said that Vidhan Sabha and Lok Sabha are the holy temples of democracy. It is very important to maintain their purity. "It is a matter of misfortune that almost all parties are only giving tickets to criminals to win elections. The most worrying thing is that people caught in crimes like rape and murder are also being given tickets. The number of criminals is increasing in every election, today this number has increased to 43 percent", said Shanta.
Shanta Kumar said that before 1947, India's politics was clean and politics for the service of the country. But post-independence politics, have not only become the politics of votes, but to gain power, now it has become the politics of the criminals.
He said that in India's politics, leaders like Mahatma Gandhi and Deen Dayal Upadhyay always talked about honesty, service and morality. He said, "When I came into politics 60 years ago, politics was not only about power but morality and truth. Value-based politics was the loyalty of political parties. It is very important in India's politics to stop the ever increasing crime. The parties may have forgot but the Supreme Court has taken a very important historical decision to complete the work of Mahatma Gandhi and Shri Deen Dayal Upadhyay", said Shanta.
He said that the public has the highest responsibility in this. The party only gives tickets and the public gives votes. Why do the public vote for such candidates in such a way that criminal candidates forfeit their bail(zamaant zapt ho). Corruption is the result of making such criminals victorious and due to that the country is in crises.