BJP bursts Amarinder's claims of achievements
Tarun Chugh terms it 3 years of loot and deceit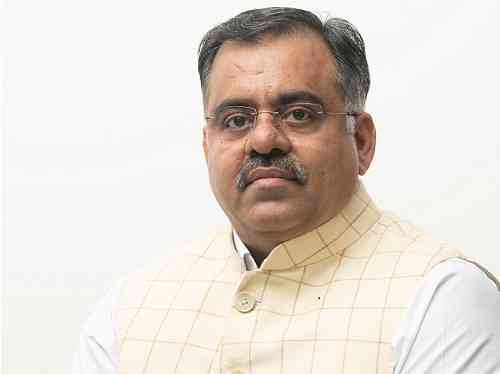 Tarun Chugh, National Secretary, BJP.
Chandigarh: The Bharatiya Janata Party (BJP) has bursts Punjab Chief Minister Capt Amarinder Singh's claim of his government's achievements in last three years and said actually these were 3 years of loot and deceit.
Hitting at Capt Amarinder Singh for once again telling lies on a public stage, Tarun Chugh, the national secretary of the party, said people have been repenting their decision to elect Amarinder government for the last 3 years.
The BJP leader said that in the last 3 years, over 700 farmers and farm labourers have committed suicides as the Amarinder government failed to honour its promise of waiving off the entire loan of farm sector including that of Banks, Cooperative Banks and Arhtis. The implementation of the loan waiver scheme started 9 months after the Amarinder government took over but proved to be a non-starter.  The majority of the farmers were still to get a waiver and those who received partial relief were also feeling cheated.
Taking Amarinder head-on for making false promises holding a pious 'Gutka Sahib' in his hand, to end the menace of drug, Chugh said 'Chitta' was still available in every nook and corner of the state.
Blasting Congress for cheating youth of state by luring them with a promise of employment and an unemployment allowance of Rs.2500 per month, Chugh said the Amarinder government has disappointed youngsters as they had neither got employment, nor unemployment allowance. "Promise of giving smartphones to the youth has proved to be the biggest lie as there is no trace of smartphones even after 3 years and now the government was delaying it further by relating the delay in delivery to Coronavirus in China," he said.
"No employee has been regularized during Amarinder regime. Even those regularized by SAD-BJP regime were targeted by the Congress government. The Achievement of this government is that it closed 1647 Sewa Kendras out of 2147 opened by SAD-BJP government," Chugh said.
Slamming Amarinder government for its inability and unwillingness to handle the law and order situation in the state, Chugh said the situation was going bad to worse by the day. He said gangs rule the roost and gang-wars were becoming order of the day.
Chugh warned Capt Amarinder that the Congress MLAs were facing tough time in their respective constituencies as people were quite unhappy with the government.  Congress MLAs could turn the tables on him as they were also feeling suffocated as they have no say in local governance and the officers were ruling the state bypassing the political authority of elected representatives, he said.