Bittu and Ashu hold meeting with Union Minister of Railways 
Take up several issues related to city with the union minister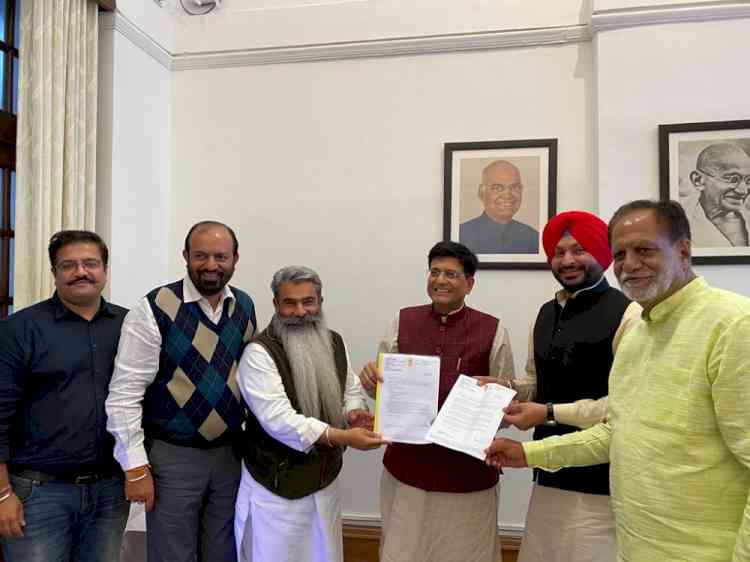 Ludhiana: Ludhiana MP Mr Ravneet Singh Bittu and Punjab Food, Civil Supplies & Consumer Affairs Minister Mr Bharat Bhushan Ashu today held a meeting with Union Minister of Railways Mr Piyush Goyal at Delhi. During today's meeting, several issues related to the rail projects in Ludhiana City were taken up with the Union Minister.
    They were also accompanied by Mayor Mr Balkar Singh Sandhu, Ludhiana Improvement Trust Chairman Mr Raman Balasubramaniam and traffic expert Mr Rahul Verma.
    In a press statement issued here today, Mr Ravneet Singh Bittu and Mr Bharat Bhushan Ashu informed that issues such as temporary opening of a level crossing (no S3-A at Km 4/6-7) near Vikas Nagar area along the Sidhwan Canal, construction of foot over bridges over railway lines, some modernisation reforms were proposed for Ludhiana Railway Station etc.
    They also urged the union minister to start the construction of a Rail Over Bridge on the missing link part 2 near Dhandia-Gill villages, situated on Ferozepur Road-Malerkotla Road Byepass.
    Mr Ashu stated that the construction work of Rail Over Bridge and Rail Under Bridge on Pakhowal Road has already started. "The construction of the ROB by the Railways would involve the closure of main level crossing during the execution period. Therefore, it would be essential to divert the traffic on other arterial roads during this period and so, a level crossing, no S3-A at Km 4/6 -7 existing nearby was closed subsequent to the construction of Rail over Bridge across it. This level crossing, if opened temporarily during the construction period, would immensely help in the management of the traffic," Mr Ashu told the Union Minister.
    Mr Bittu urged the union minister that for the safe & secure passage for pedestrians over railway lines in some critical areas, Foot Over Bridges should be constructed at Dhandari Khurd, Dhandari Railway Station, Giaspura, Sherpur, Vishwakarma Chowk near Vishwakarma Temple, Preet Palace to Gill Chowk, Dholewal Chowk, Daba Road and an underpass at Sherpur. He said that all these areas are having industries on one side and residential areas on the other side (across the railway lines). Due to this, people (specially labourers working in the industries) are forced to cross the railway lines frequently in an insecure manner because of non-availability of foot over bridges. And owing to heavy railway traffic (Approx 200 trains up down per day), accidents happen there resulting in loss of precious lives time & again.
    They said that when the modernisation of the railway stations was done in the country, the Ludhiana Railway Station was left out. This issue was taken up with the Union Minister who asked his staff to include Ludhiana Railway Station in the list immediately.
    They leaders also proposed some reforms for the modernisation of Ludhiana Railway Station such as, Converting Railway Quarters into Multi-storey Complexes. They said that around 2016 acres of land is available with Railway department behind the Ludhiana Railway station that host old residential quarters. This leaves little space for parking and commuting and there is always traffic jam at both ends of the Railway Station. They suggested that this land can instead be auctioned to builders to construct prescribed multi storey buildings, malls, hotels and restaurants, exhibition areas and parking slots. They also proposed that adequate parking behind Civil Lines Police Station. "Enough land is lying vacant behind Parking of Division No 5 Police Station that can be converted into a Parking lot having access from Ferozepur Road and Rakh Bagh. This will ease out the vehicular congestion at both gates of Railway station, bring convenience to commuters and ease out the situation," they proposed. 
    They also proposed that lifts and elevators, widening of stairs to the respective platforms and shifting of migrants trains to Dhandhari Kalan Railway Station. 
        Mr Ravneet Singh Bittu and Mr Bharat Bhushan Ashu stated that the Union Minister assured that all these issues would be resolved on priority basis.