Bhumika Group's MD, Uddhav Poddar shares his views on tapping untapped treasure
Growth Prospects in Tier II & III Cities at Mapic India- Though Leadership and Awards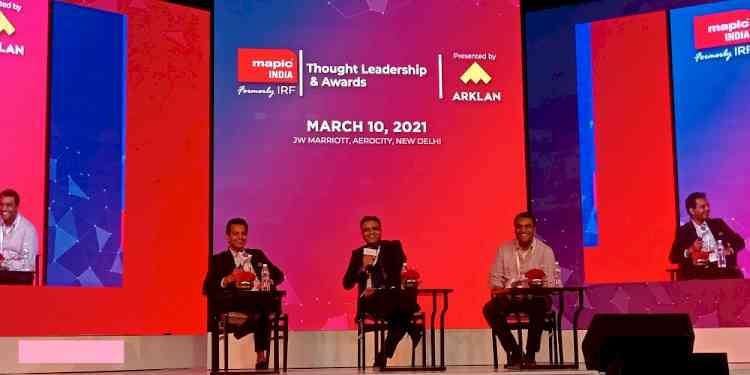 New Delhi: Mapic India organized a glittering Retail award function and sessions at JW Marriot Hotel on March 10, 2021. It saw active participation from industry experts from retail and shopping centers fraternity across the country. The Chief Guest of the function was Hon'ble Minister of State, Shri Pratap Chandra Sarangi, Ministry of MSME, Government of India, who addressed the participants in the event with his powerful keynote speech.
 
In the Fire Side Chat session on Tapping the Untapped Treasure: Tier II & III Cities -Growth Engines for the Future, MD of Bhumika Group, Mr. Uddhav Poddar was invited as one of the eminent speakers.
 
Speaking during the event, Mr. Uddhav Poddar, highlighted the fact that in Tier II & III cities there is immense potential which needs to be tapped. In these cities, the aspirations are as high as in Metros.  The demands are untapped and there is hardly any competition. With E-commerce boom, it has been witnessed that more than 60% sales on the E-commerce platforms in India comes from Tier II and smaller cities. This has triggered the demand of retail space in these cities as more and more brands are now willing to expand their presence in these cities. Therefore potential in these cities are really high. Only important thing is to place the right product at the right price."
 
Further he added that in Tier II & III cities the location is very important and one should aim for developing a small shopping centres or in phases. He also said that work from home (WFH) is a temporary phenomenon and it's not going to impact retail in long run. People have started coming back to malls for food, entertainment and shopping.
 
Talking about the need of Mixed Use development is city like Udaipur, Mr. Poddar confirmed that Urban Square - one of the largest retail & hospitality centric Mixed Use development in Rajasthan being developed by Bhumika group is slated to launch in October 2021 (Phase I).
 
It's going to be the landmark of Udaipur. It is expected that people of Udaipur and the weekend traffic from Gujarat is going to gain most from this Mall which is going to have a healthy brand mix with over 30 National & International brands signed up for this mall. Urban Square is destined as "All Under one Roof" development with retail, commercial, serviced apartments, and a five star hotel.