Bhog and Antim Ardas of Sardarni Jasvir Kaur Hunjan performed
Bhai Gurdev Singh ji Hazuri Ragi Sachkhand Sri Harmandir Sahib Darbar Sahib Amritsar performed the Kirtan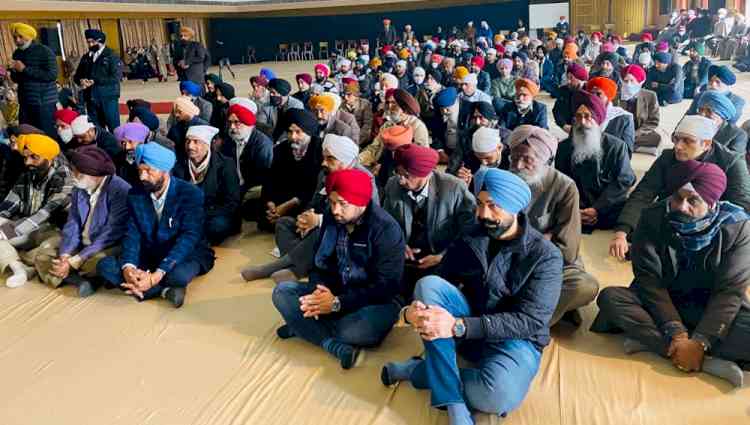 Ludhiana: Today (January 17, 2021) Bhog & Antim Ardas of Sardarni Jasvir Kaur Hunjan W/o S. Bhupinder Singh Hunjan & D/o Bapu ji S. Ajit Singh ji Kular Chairman Kular Group was Performed at Gurdwara Ramgarhia Baba Gurmukh Singh Hall from 1 to 2.30 pm. Bhai Gurdev Singh ji Hazuri Ragi Sachkhand Sri Harmandir Sahib Darbar Sahib Amritsar Performed the Kirtan.
 
S. Gurmeet Singh Kular President FICO paid tribute to Sardarni Jasvir  Kaur Hunjan W/o S. Bhupinder Singh ji Hunjan & Jathedar Hira Singh Gabhria Ex Cabinet Minister Punjab 
thanked the sangat.
 
Following eminent personalities make the presence Jathedar Hira Singh Gabhria Ex Cabinet Minister Punjab, S. Maheshinder Singh Grewal Ex Cabinet Minister Punjab, S. Onkar Singh Pahwa Chairman Avon Cycles Limited, Ranjit Singh Dhillon President Shiromani Akali Dal Ludhiana Urban, K. K. Seth Chairman FICO, Swarn Singh Moholi Ex Councilor, Sohan Singh Goga Ex Chairman Ramgarhia Welfare Board, Balbir Singh Mankoo Ex Councillor, jaswinder Singh, Bhupinder Singh Hunjan, Rajveer Singh Hunjan manjeet Singh Hunjan, Rupinder Singh Hunjan, Manjinder Singh Sachdeva President BRADO, Sukhdial Singh Basant Chairman Baba Vishwakarma Bhawan, Raghbir Singh Sohal President Ramgarhia Foundation, Narinder Bhamra President Fasteners Manufacturers Association, Inderjeet Singh Navyug Ex President UCPMA Rajinder Singh Sarhali Ex Director Ludhiana Effluent Treatment Society, Surinder Singh Chauhan President Guru Nanak Seva Mission, Avtar Singh Bhogal President Vishwakarma Mission, Ranjodh Singh President Vishwakarma Education Council, Dalbir Singh Dhiman Chairman & Gurmukh Singh Rupal General Secretary United Sewing Machine & Parts Manufacturers Association, Harjeet Singh Sondh, Gagnish Singh Khurana General Secretary Focal Point Phase VIII Association 34 Acre Mangli, Satnam Singh Makkar President Dhandai Industrial Welfare Association, Bhupinder Singh Ubhi Ramgarhia Darpan, Gurcharan Singh Gemco Sr vice President UCPMA, BK Gupta Ex Joint Commissioner Municipal Corporation Ludhiana, Tarsem Lal Thapar President Small Scale Industries Association Malerkotla, Bal Mahajan, Nitin Mahajan General Secretary Lodhi Club, Gurwinder Singh Sachdeva President Ludhiana Sanitary & Pipe Traders Association, Baljeet Singh Vishwakarma, Harpal Singh Bhamber, Surjit Singh Lotey Inderjit Singh Sohal, Bhupinder Singh Sohal Asia Crane, , Jagdish Singh Kular, Gurmeet Singh Kular, Gurcharan Singh Kular, Jagdev Singh Kular, Harmail Singh Kular, Sukhwinder Singh Kular, Sukhdev  Singh Kular.